Mainstream of Sino-Japanese ties good: FM
(Xinhua)
Updated: 2004-04-04 08:28
The main current of Sino-Japanese relations is good, said Chinese Foreign Minister Li Zhaoxing in Beijing Saturday.
Li told visiting Japanese Foreign Minister Kawaguchi Yoriko in their two-hour official talks that China and Japan kept up political dialogue with smoothly developed economic cooperation and active non-governmental exchanges.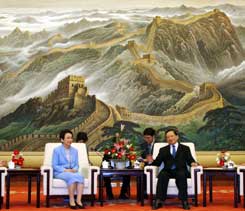 State Councillor Tang Jiaxuan (R) meets Japanese Foreign Minister Yoriko Kawaguchi at the Great Hall of the People in Beijing April 4, 2004. [Reuters]

The two countries enhanced coordination and cooperation in pushing forward regional cooperation and maintaining stability in the East Asia region, Li said.

The view of the Japanese people from all walks of life on China changed positively in recent years and that indicated the mutually beneficial cooperation between the two countries has won popular support among all the people, Li said.

The Japan-China relationships were very important, said Kawaguchi. Substantial exchanges were carried out at various levels of the two countries and the economic interdependence deepened.

Japan regards China's growth as an opportunity rather than a threat and the Japan-China cooperation was believed conducive to the peace and stability in the region and the world at large, the Japanese foreign minister said.

On the Taiwan issue, Li said that the Chinese government and people were deeply concerned by Japan's words and acts due to historic factors.

Li urged Japan not to send any erroneous message to the Taiwan authority and the force seeking "Taiwan independence".

Li also noted that given the Japanese leader visited the Yasukuni Shrine again, he will shoulder a heavier historical burden for Japan and will do no good for Japan itself and the Sino-Japanese ties as well.

The Japanese side should show sincerity in settling the shrine issue in the spirit of "taking history as a mirror and looking forward to the future."

On the Diaoyu Islands issue, Li said the island and attached islets were part of China's inherent territory since the ancient times and China has indisputable sovereignty over the islands.

Even though Japan and China have disputes on the issue, China always holds to resolve the problem through consultations and negotiations, Li said.

Kawaguchi expressed Japan's stance on the above issues. She said that the Japanese government does not support "Taiwan independence" and the country's stance in the China-Japan Joint Statement signed in 1972 remained unchanged.

The Japanese side has repeatedly expressed its remorse on the past history and that attitude has also not changed, she said.

The two sides also exchanged views on international and regional issues of common concern during their meeting.
Today's Top News
Top China News

Job hunt an uphill battle for female graduates




Alstom confident in super rail tender




60,000 protest Chen Shui-bian in Taipei




Guangdong plans biggest nuclear power plant




Mainstream of Sino-Japanese ties good: FM




Powell: Key intelligence piece on Iraq flawed