Arafat dismisses Sharon assassination threat
(Agencies)
Updated: 2004-04-03 22:56
Palestinian President Yasser Arafat said on Saturday he was unmoved by a threat by Israeli Prime Minister Ariel Sharon to assassinate him which had drawn criticism from the United States.
Arafat was speaking to reporters at his battered headquarters in Ramallah hours after a Palestinian gunman infiltrated a Jewish settlement in the West Bank, killing a settler and wounding his 12-year-old daughter before soldiers shot the attacker dead.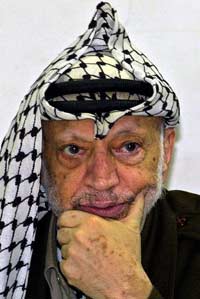 Palestinian President Yasser Arafat sits in his office in the West Bank town of Ramallah April 2, 2004. [Reuters]
In interviews with Israeli newspapers on Friday, Sharon had issued his most explicit threat yet against Arafat, calling the Palestinian leader a poor insurance risk.
"I don't care for it. I am caring for my people, for our children, for our women, for our students," Arafat, speaking in English, said in his first response to Sharon's remarks.
The United States criticized Sharon's comments, but Israel's Internal Security Minister Tsahi Hanegbi defended the prime minister's remarks on Saturday and noted that U.S. forces had killed militants in Iraq and Afghanistan.
The Hamas militant group claimed responsibility for the attack on the West Bank settlement. In telephone calls to Reuters, it said it was done "to avenge the assassination" on March 22 of the group's leader, Sheikh Ahmed Yassin, by an Israeli helicopter strike in Gaza.
Hamas has waged a decade-old campaign of attacks against Israelis, including suicide bombings that have killed hundreds.
Israeli soldiers later launched arrest sweeps in two West Bank towns, and took 23 Palestinian suspects into custody in Nablus, a military source and witnesses said.
In the Gaza Strip, two Israeli helicopters opened fire with machineguns at the crowded Rafah refugee camp, apparently during a chase after militants, witnesses said. There were no immediate reports of injuries.
An Israeli military source confirmed the shooting but said the troops aimed at open spaces and not at any homes.
ISRAEL REBUFFS U.S. CRITICISM
Sharon, who is under fire in Israel over his plan for a unilateral Gaza pullout and over a bribery scandal, singled out Arafat and Sheikh Hassan Nasrallah, leader of Lebanon's Hizbollah guerrilla group, in his media interviews.
"I wouldn't suggest either one of them should feel secure. I wouldn't propose that any insurance company give them coverage," Sharon told Israel's Haaretz daily.
"Anyone who kills a Jew or harms an Israeli citizen, or sends someone to kill Jews, is a marked man. Period."
Israel accuses Arafat of fomenting violence, an allegation he denies.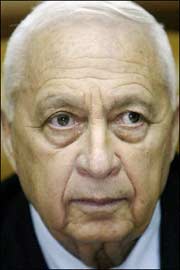 Ariel Sharon [Reuters]
Responding to Sharon's comments, Deputy Secretary of State Richard Armitage told reporters in Washington: "Our position on such questions -- the exile or assassination of Yasser Arafat -- is very well known. We are opposed and we have made that very clear to the government of Israel."
Hanegbi rebuffed Washington's criticism, telling Israel Radio "it seems to me that it should be the last one that can preach to us about how to implement our right to self-defense."
Hanegbi asserted that U.S. forces had been killing militant leaders in Iraq and Afghanistan "some of whom haven't touched a hair on the head of any American in the United States." He noted last year's killing of Saddam Hussein's two sons by U.S. forces.
Israel's government declared in September that Arafat -- holed up in his battered headquarters in the West Bank city of Ramallah for more than two years -- should be "removed," but then backed off the threat amid strong international criticism.
Describing the attack on the settlement of Avnei Hafetz near the West Bank city of Tulkarm, army Captain Jacob Dallal said an armed militant broke through its perimeter fence on Friday night, and fired through the window of a house wounding a girl.
"The father had meanwhile grabbed a pistol and went outside to see what was going on. He found the terrorist but was shot by him and died later," Dallal told Reuters. "An army unit arrived, engaged the Palestinian and shot him dead."
Today's Top News
Top World News

Job hunt a battle for female graduates




Mainstream of Sino-Japanese ties good: FM




Powell: Key intelligence piece on Iraq flawed




Alstom confident in super rail tender




Americans warm to Beijing brand liquor




HK responds to US' HK policy act report