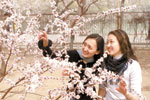 Beijing's flower power generally peaks in April, a month later than the relatively warm south .
The city's fertile suburbs have become a growing attraction for visitors in recent years thanks to large swathes of blossoming peach and pear trees.
In the city proper, the best places for flower appreciation include Yuyuantan Park and Beijing Botanical Garden.
Yuyuantan Park's Cherry Blossom Festival
Some 2,000 cherry trees were transplanted from Japan in the 1970s to mark the friendship between the two countries.
The park holds an annual Cherry Blossom Festival in April.
Though the cherry blossom sometimes lasts just one week, the park manages to keep trees in blossom throughout the month as it has planted many different species.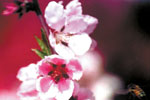 The prevailing weather naturally affects the bloom time. Rain or an unexpected cold snap in spring can delay the full glory.
According to staff at the park, some trees are already in blossom and attracting lots of photographers.
This year is the 12th year the festival has been staged.
Among 137 hectares of park, water occupies 61 hectares. Boating is a popular pastime here, offering a fresh view of the flowering trees.
Nearby attractions include the China Millennium Monument, about 200 metres south of the park, and the 405-metre-high CCTV Tower at the east gate of the park.
To get there, you can take subway to Chinese Military Museum (Jun Shi Bo Wu Guan). The park is about 500 metres northwest of the station.
Take bus routes 320, 114, 717, 727, 13, 21, 37, or 65 to Yuyuantan.
The park lacks parking. It's best to go by subway, taxi or bus.
Entrance: 2 yuan (24 cents).
Beijing Botanical Garden
A variety of fresh flowers can be found in the conservatory, which is the largest in Beijing. Thousands of plants are on display here daily.
Apart from the flowers in the conservatory, a large area of peach trees are in blossom and add sparkle to the Botanical Garden.
Opening time: 8:30 am-4 pm for the conservatory and 7 am-5 pm for the outdoor garden.
Admission: 50 yuan (US$6) for conservatory.
To get there, bus routes 333, 331, 904, 737, 833 and 360 arrive at the garden. You can drive along Xiangyi Lu from the west gate of Summer Palace.
Peaches in Pinggu
The annual International Festival of Peach Blossoms and Fireworks will be hosted by Pinggu County, Beijing, from April 19 to May 7.
Famous for its high-quality peaches, Pinggu has 6,670 hectares of peach trees which blossom beautifully every April. The local government has organized various tourist attractions for visitors.
Dahuashan Town in Pinggu is piloting ecological agricultural production by making full use of its abundant peach resources.
To get there: take bus 918 at Dongzhimen to the town of Pinggu and then change to a minibus to Dahuashan Town. You can also drive along Jingshun (Beijing-Shunyi) Road and then along the Shunping (Shunyi-Pinggu) Road.
Better still, there's no charge for looking at the mountains of peach flowers.
Perfect pears in Daxing
Daxing, the south suburban district of Beijing, is not only famous for watermelon but also pear planting.
Panggezhuang had the monopoly on supplying high-quality pears to the imperial family during the Ming (1368-1644) and Qing (1644-1911) dynasties.
Pear trees dating back more than 100 years still grow well there. The local government later stepped up planting to develop pear-related products and tourism.
The pear trees typically bloom from around April 15 to May 10. Wooden farmhouses have been built in the pear groves to provide accommodation and dining for visitors.
The best time to go is after April 20 when most of the trees are in blossom.
To get there, take bus 917 to Daxing and then change minibus to Panggezhuang.
Tel: 8923-5055 (Chinese only).
No entrance fee is charged just to look at flowers.