Interview with Yao and Patrick: A perfect couple
(NBA.com)
Updated: 2004-04-02 14:44
When Jeff Van Gundy became head coach of the Houston Rockets last summer, he brought in Patrick Ewing as an assistant coach. Ewing's primary objective is to teach and coach Yao Ming.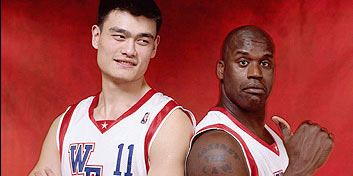 Yao Ming: I have to admit that playing against him (O'Neal) is very exciting. He's lucky though, he gets to retire first. [NBA.com]

TNT's John Thompson interviewed Yao and Patrick together to discuss their relationship and talked about a common opponent, Shaquille O'Neal.

The Rockets travel to Los Angeles to play the Lakers on Thursday at 10:30 p.m ET on TNT.

Here are a few excerpts from the interview:

What has the relationship been between you and Patrick?

Yao: He really has taught me a lot about stuff on the court. Not just technical stuff, but things about mentality.

What are the things, Patrick, that you believe he needs to improve on most right now?

Ewing: Be more consistent.

How do you feel about the comparisons made between you and Shaquille O'Neal?

Yao: Everybody likes to see a good matchup. I also like to watch a good matchup, and I have to admit that playing against him is very exciting. He's lucky though, he gets to retire first.

What kind of advice do you give Yao based on your past experiences in playing against Shaq?

Ewing: You try to be physical, match his strength, but basically use his height.

How about his offensive strategy?

Ewing: His offensive strategy is to make Shaq move his feet. Yao's a great shooter from the perimeter. Face Shaq, face him up, use his hooks.

Is it necessary for him to become meaner to be a good player in the post position based on the amount of pushing and shoving?

Ewing: Yeah. The more people beat on him, and the more physical abuse he takes from these guys hitting him in the stomach and elbowing and pushing him, then the more agressive he'll become. I don't think he needs to be mean, but I think he needs to be aggressive.
Today's Top News
Top Sports News

Nation indignant over US arms sale to Taiwan




Taiwan court to hear recount lawsuit




NPC to interpret annexes of HK Basic Law




China to US: Stop spying in border areas




2008 Games to bring US$16b business




Flight insurance dispute soars