Serena reaches finals of Nasdaq-100 Open
(Agencies)
Updated: 2004-04-02 10:12
A serve by Serena Williams nearly hit Eleni Daniilidou in the face. A point-blank exchange at the net left Daniilidou looking like a dodge-ball target. And so when she handed her racket to a ball boy in mock surrender, he quickly gave it back.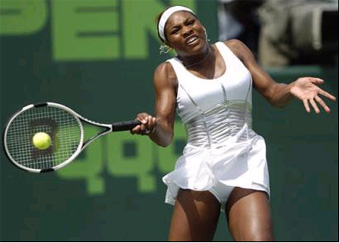 Serena Williams returns a shot back to Eleni Daniilidou from Greece during the semifinals match Thursday, April 1, 2004, at the Nasdaq-100 Open in Key Biscayne, Fla. Williams won, 6-4, 6-4. [AP]

Can't blame the kid for wanting no part of Williams, whose comeback has the momentum of an overhead slam.

Playing her first tournament since July, Williams advanced to the final of the Nasdaq-100 Open by beating Daniilidou 6-4, 6-4 Thursday.

Her opponent Saturday will be the winner of the all-Russian semifinal Thursday night between fifth-seeded Elena Dementieva and No. 8 Nadia Petrova.

"As far as I've gotten is a major confidence boost, regardless of what happens," Williams said. "I really, really am proud of myself because it's hard to come back. It's nerve-racking."

Andy Roddick and Vince Spadea advanced to the Key Biscayne semifinals for the first time and will meet Friday. The No. 2-seeded Roddick came from behind twice and won the final four games to beat No. 5 Carlos Moya 5-7, 6-2, 7-5.

"I feel like I've cheesed through a couple of matches this week," Roddick said. "Hopefully we can make something of it this weekend."

The unseeded Spadea, who won his first career title last month in Scottsdale, Ariz., at age 29, beat No. 20 Agustin Calleri 7-5, 6-1.

Williams smacked 28 winners in her semifinal victory, and when she hit back-to-back aces midway through the second set, Daniilidou turned to the ball boy for help.

Williams' reaction?

"Hit another ace," she said.

"I couldn't even see where she was serving," Daniilidou said. "She serves unbelievable. Today I think it was the key."

The top-seeded Williams is 5-0 since returning last week from an eight-month layoff following knee surgery. She has won 17 consecutive matches at Key Biscayne, and she's bidding to win the tournament for the third year in a row.

Making her return less daunting has been the absence from the field of the five top-ranked women, including No. 1 Justine Henin-Hardenne, who decided to skip the tournament. No. 2-seeded Venus Williams won't be an obstacle either ¡ª Dementieva upset her Wednesday to prevent the first all-Williams final since Serena beat her older sister at Wimbledon last year.

Against Daniilidou, Serena raced to quick leads in each set but still showed occasional rust. She was broken while serving for each set and committed 25 unforced errors.

But she displayed considerable variety in her shotmaking. On one point she hit a 111-mph serve, an overhead and a running forehand crosscourt winner.

Williams' best shot was her serve. She hit seven aces, with Daniilidou ducking out of the way of one.

"I'm surprised by my serve," Williams said. "It just comes out. It's perfect."

When she ripped a forehand crosscourt winner to reach match point, she brandished a fist and roared. Daniilidou then sent a forehand wide to give the victory to Williams, who hopped in jubilation.

Daniilidou, seeded 25th, won every set in her first five matches and beat Jennifer Capriati, the runner-up the past three years. But she was repeatedly handcuffed by Williams' powerful strokes.

"She played just too good," Daniilidou said.

Moya had the edge through most of his match against Roddick and served for a berth in the semifinal leading 5-4 in the final set. The Spaniard double-faulted and hit three errant forehands to lose the game.

"One of the worst games I ever played," Moya said. "Probably I got tight."

Roddick erased a break point in the next game with a spectacular forehand crosscourt winner, then broke again in the final game, closing out the victory with an overhead slam.

"He was the better player pretty much all day," Roddick said. "Lucky for me, I think he just got a little tight at the end. He gave me a gift of a game. I would love to claim all credit for it, but that's not the case."

The other men's semifinal Friday will be an all-South American matchup between No. 3 Guillermo Coria of Argentina and No. 21 Fernando Gonzalez of Chile.
Today's Top News
Top Sports News

Nation indignant over US arms sale to Taiwan




China to US: Stop spying in border areas




2008 Games to bring US$16b business




Flight insurance dispute soars




Technical standards updated to suit WTO




National power needs require investors