US Private Lynch ponders survival, celebrity
(Agencies)
Updated: 2004-04-02 09:22
Jessica Lynch is trying to work it all out.
A year after the Army supply clerk's wounding and rescue made her the Iraq war's most famous soldier, she grapples with questions both personal (When should I go to college? When should I get married?) and philosophical (Why did I survive when others didn't?).
"I mean, obviously, there has to be a reason," the 20-year-old Lynch told The Associated Press. "I don't know what it is yet. So I have to explore all these things to figure it out."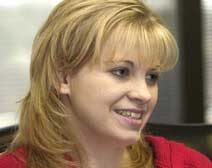 Former POW Jessica Lynch [AP]

Lynch's search is in many ways typical for an American woman still a few weeks shy of the drinking age. It is the fame that is unusual -- the crowds of well-wishers drawn to her everywhere she goes, whether at the diner near her Palestine home or at the Golden Globe Awards in Beverly Hills.

"I'm just a country girl. It's something I'm not used to, and I probably never will be," she said. "I do want my life back to normal, because it's hard -- it's so hard. But at the same time I'm like -- wow, I get to go to New York, I get to go to Hollywood. I get to hang out with people like Britney and Leonardo."

Lynch has made a few appearances since last year's book tour for Rick Bragg's biography, "I Am a Soldier, Too." The former POW won an award from Glamour magazine (where she met Spears); rode in the Gator Bowl parade; starred at Gov. Bob Wise's State of the State speech; hung out at parties after the Golden Globes (where she met DiCaprio); and took a three-day jaunt to the Bahamas after christening a cruise ship.

This month, Lynch will do the first of four events for Get Motivated, a company that hires figures such as Rudolph Giuliani and Mikhail Gorbachev to speak at business seminars. Her message will be: "If I can do it, you can."

"I was put in one of the worst situations there is out there. So if you're having problems with your boyfriend or whatever, you can get through it," she said. She added with a laugh: "I get nervous when I'm in a large group of people. I don't know how that'll work out."

Lynch's whirlwind started on March 23, 2003, when her 507th Maintenance Company got lost in the Iraqi desert and was ambushed in Nasiriyah.

With her vehicle stalled and her rifle jammed, Pfc. Lynch hopped into a Humvee driven by her best friend, Pfc. Lori Piestewa. The vehicle was hit by a rocket-propelled grenade and crashed. The 11 American soldiers killed in the ambush included Piestewa and three others in the Humvee: 1st Sgt. Robert Dowdy, Sgt. George Buggs and Spc. Edward Anguiano.

Lynch suffered two spinal fractures, nerve damage and a shattered right arm, right foot and left leg. According to medical records cited in her biography, she was also sodomized, apparently during a three-hour gap she cannot recall.

Her videotaped rescue from a Nasiriyah hospital by U.S. commandos on April 1 made Lynch a hero.

It also stirred complaints of media manipulation by the U.S. government. Early reports -- not from Lynch or her family, and later disproved -- had the flyweight former Wirt County Miss Congeniality suffering knife and bullet wounds while fighting off attackers until running out of ammunition.

Lynch agreed to the AP interview on condition that she not be asked about her Iraq ordeal. She repeated her charge that she felt "kind of used" by officials who spread false stories about her. But she declined to discuss the politics of the Iraq war.

Still hobbled and using a cane, Lynch spends several hours a day in rehabilitation therapy. Nerve damage has left her unable to feel her left foot, though doctors hope she will regain its full use. The Army awarded her a medical retirement and an 80 percent disability pension.

"They say a millimeter a day the nerves grow" from where her back was damaged, she said. "They're giving me another year. After that, it might not be looking so good. But there's still hope."

One of the reasons for her survival, as she sees it, has been to allow her to tell her story to the families of the four soldiers who died next to her.

She created a foundation with proceeds from her $1 million book deal. The Jessica Lynch Foundation's goal is to educate children of veterans.

Last month Lynch postponed her June wedding to Sgt. Ruben Contreras, whom she began dating two years ago when they were stationed at Fort Bliss in Texas. She would not discuss details but said they plan to wed next year.

Eventually, Lynch said, she will go to college to work toward her goal of teaching kindergarten. Her face lights up whenever she discusses the job, or children.

Lynch is uncertain whether her wounds will prevent her from starting her own family.

"I do have a lot of problems with everything inside, so I don't know if that'll affect it or not. I hope not, because I'd love to have children," she said. With a shy smile, she added, "Love it."
Today's Top News
Top World News

Nation indignant over US arms sale to Taiwan




China to US: Stop spying in border areas




2008 Games to bring US$16b business




Flight insurance dispute soars




Technical standards updated to suit WTO




National power needs require investors