Angry crowd mutilates bodies of US contractors; five US soldiers killed
(Agencies)
Updated: 2004-04-01 11:20
Furious Iraqis hacked up the charred remains of two of four US civilians killed in an ambush and hung them from a bridge, drawing a horrified reaction from Washington and a vow to resist threats to make this city "the cemetery of the Americans."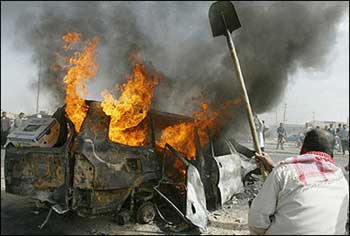 An Iraqi hits a burning car with a shovel in Fallujah where four civilian contractors were shot dead. [AFP]


Five U.S. soldiers were killed in a separate attack Wednesday in an area that has become a hotbed of resistance to the U.S.-led coalition occupying Iraq.

U.S. Brigadier General Mark Kimmitt, deputy coalition operations chief, said from Baghdad that the four were killed when two vehicles, both four-wheel drives, were ambushed and set ablaze in Fallujah.

Boiling with anger, demonstrators strung the bodies of two of the victims from a bridge straddling the Euphrates River, let them hang and hurled rocks at the corpses, an AFP correspondent witnessed.

"Down with the occupation, down with America," the crowd shouted.

"Fallujah will be the cemetery of the Americans," said one man, his face hidden by a scarf.

"Revenge, revenge for Saddam (Hussein)," others shouted, the Iraqi president whose ironfisted regime was ended by the U.S.-led war.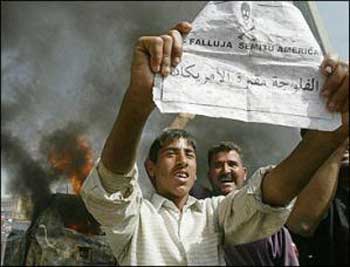 An Iraqi boy holds a leaflet in broken English that reads 'Fallujah, the cemetery of the Americans,' near a burning car in Fallujah. [AFP]


The bodies were then pulled down and placed on the ground for people to kick and slash with knives. One body was headless. A hand and a leg were strung from an electric pole in the main street.

By early evening, crowds were still celebrating in the streets, with people shooting in the air and distributing candies.

At one point, U.S. Marines in armored vehicles were seen at the eastern entrance of the town but later withdrew.

Four policemen in a car who were near the bridge at the time were seen leaving the scene without intervening.

The State Department confirmed that all four of those killed were U.S. citizens. They were employed by Blackwater Security Consulting of Moyock, North Carolina, the firm said. Their identities were not immediately available.

Reaction from Washington to the incident was swift and fierce.

"These are horrific attacks by people who are trying to prevent democracy from moving forward," said White House spokesman Scott McClellan. "We condemn these attacks on the strongest possible terms."

The soldiers were killed when their convoy hit a roadside bomb northwest of the U.S. military base in Habbaniya, 90 kilometers (55 miles) west of the Iraqi capital, Kimmitt said.

It is thought to be the worst single incident involving coalition troops since a U.S. military helicopter was downed January 8 near Fallujah, 50 kilometers (30 miles) west of Baghdad, killing all nine people aboard.

The latest deaths brought to 291 the number of U.S. soldiers killed in action since May 1, when U.S. President George W. Bush declared major hostilities over.

Both McClellan and State Department spokesman Adam Ereli said the United States would not be deterred by the attacks in its goal to restore democracy to Iraq.

"The U.S. government is certainly committed to sticking this through to the end," Ereli said.

Fallujah lies at the heart of the so-called "Sunni triangle", a hotbed of die-hard opposition to the occupation, where U.S. Marines have been relieving comrades from the Army's 82nd Airborne Division.

Kimmitt said a small minority of insurgents were desperately trying to stop Iraq's march toward democracy and progress, but would not succeed.

The key to stopping them was obtaining good intelligence, and Iraqis were increasingly helping U.S.-led forces, he said.

U.S. military officials had been warning of a major escalation of violence ahead of the June 30 transfer of power to Iraq.

In the southern port city of Basra, three British soldiers serving in the coalition were wounded by a roadside bomb explosion, a British military spokeswoman told AFP.

In other incidents Wednesday, four policemen and six civilians were wounded in a car bomb explosion in Baquba, north of Baghdad, police said.

In the central Shiite Muslim holy city of Najaf, about 200 students demonstrated outside city hall to protest recent police "repressive acts".

And in Baghdad, several thousand angry Iraqis demonstrated for the fourth consecutive day to protest a decision by the U.S.-led coalition to shut down the weekly newspaper of radical Shiite cleric Moqtada Sadr.

The coalition said the weekly was inciting violence, a charge denied by Sadr.

At the United Nations, the Security Council said Wednesday it would cooperate with Secretary General Kofi Annan's fraud probe into the U.N. program that oversaw Iraq's oil sales under Saddam.

"What the secretary general wanted was political support," said French ambassador Jean-Marc de La Sabliere, winding up his one-month term as the council president. "I think he has got that support."

Annan said last week he would launch a probe into the now closed oil-for-food program and asked for council backing needed to investigate companies and individuals connected to the scheme.
Today's Top News
Top World News

Technology sector gets US$1.3 billion




Chirac talks about lifting arms ban on China




Oil prices follow global market rises




Iraqis drag 4 US bodies through streets




Chinese kidnapped in Sudan back home finally




Hubei brings home fight against AIDS