The legacy of Chinese architects
(eastday.com)
Updated: 2004-04-01 10:45
Shanghai's pre-1949 Western architecture is dismissed by critics as little more than a painful reminder of foreign domination. But as Michelle Qiao learns, many of Shanghai's Western buildings are the work of China's remarkable first general of architects.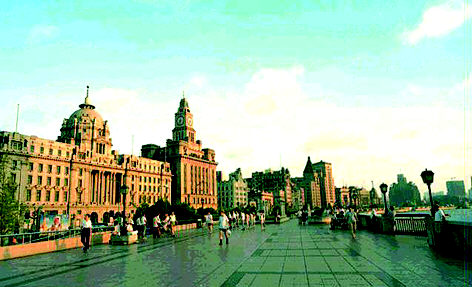 The Bund, one of Shanghai's signature sites, featuring its rich western style buildings, applied for World Heritage status in 2003 yet without further information. [file photo]

The buildings of the Bund are one of Shanghai's signature sights, an architectural glory that is, at the same time, controversial in modern Shanghai. Last year, a proposal to apply for World Heritage status for the Bund aroused heated opposition in some circles. ``These buildings have nothing to do with Chinese culture,'' scoffed critic/columnist Yan Yang in the China Youth Daily, ``they're someone else's heritage.''

Not quite. It's a little-known fact that many of Shanghai's pre-1949 Western-style buildings are the work of China's first generation of architects. Examples include the Bank of China on the Bund by Lu Qianshou, the Paramount Dance Hall by Yang Xiliu, the Majestic Theater by Fan Wenzhao and the Shanghai Concert Hall by Fan Wenzhao and Zhao Shen, among others.

By the late 1930s, Chinese architects had designed more than 20 percent of buildings taller than 10 stories. Of the 30 architectural agencies registered in 1936, more than 10 were established by Chinese architects. Their work accounts for more than 20 percent of the buildings on the Shanghai government's List of Modern

Excellent Architecture, such as the Paramount and the Bank of China. ``Traditionally, the profession of `architect' did not exist in China -- only craftsman,'' says Qian Zonghao, a deputy researcher of the Architectural History at the Shanghai History Museum. ``But things changed after the first batch of Chinese who studied architecture overseas returned in the 1910s.'' Like today, it was time of great energy and growth.

An influx of international firms brought with them not only investments but also ideas and new ways of life that China had not previously experienced. And like today, a building boom was under way. The city was undergoing massive architectural changes as well, with an unprecedented rush of neoclassical British-style buildings lining the Bund, while French, Mediterranean, Russian, American and German architectures ran through the Concessions.

As more and more people poured into the ``Paris of the East,'' places for living, working and entertainment were built up with an amazing speed. From 1900 to 1931, about 80,000 buildings mushroomed in the Concessions. ``The history of Shanghai's modern architecture history began after the arrival of the Westerners' entry,'' says Zheng Zu'an, a professor with the Shanghai Academy of Social Science's Institute of History.

``At first, the foreign architects did most of the work. But when more Chinese students returned with overseas architectural degrees, they joined foreign architectural enterprises, and later became partners or even opened their own companies.'' Among the 39 members of the China Architects Academy in 1931, 37 had been educated overseas and 29 had studied in the United States. ``With this background, they were able to design Western, Chinese or East-meets-West styles,'' adds Zheng.

``And they created their own styles, too.'' During the 1920s, Chinese government began to call upon Chinese to revive traditional culture. As the Chinese Architecture magazine said, ``Chinese architects should mix Eastern and Western architectural knowledge to enhance the characteristics of traditional Chinese architectures.'' ``With the exception of pagodas, ancient Chinese buildings, most of which are made of wood, seldom have more than two floors,'' says Qian.

``So these talented architects, full of creative ideas, applied their Western knowledge to design taller buildings with traditional elements, like dragon-and-phoenix patterns on the ceiling. We call it Chinese Renaissance Style.'' Qian points out that approximately 10 buildings in this style still remain in Shanghai, including the former Shanghai Municipal Government (now Shanghai Sports Academy's office building), the Shanghai Library (Tongji High School) and Shanghai Museum (Changhai Hospital's screening building), all designed by Dong Dayou in 1933 and located in Yangpu District.

To create the new style, Chinese architects also referred to traditional Chinese palaces, adding roofs and lofts, or embellished Western buildings with Chinese details. The Mausoleum of Sun Yat-sen in Nanjing is a typical example of this style. The 31-year-old Lu Yanzhi, a graduate from the Cornell University, laid out the mausoleum according to the structures of the Ming Dynasty (1368-1644) imperial mausoleums, with the memorial arch, tablet pavilion, sacrificial hall and coffin chamber on a central axis.

``But the traditional style is simply not practical in modern life, since the heavy roof requires strong support,'' says Qian. ``So the elements were modified. Take the Commercial Bank of China on the Bund for example. The traditional roof, with its sweeping eaves, has been simplified into a more petite version.'' China has traditionally neglected the role of architects, notes Wu Jiang, deputy director of the Shanghai Urban Planning Bureau.

``We should make their achievements known to all. In that spirit, our bureau plans to make a 100-volume documentary about Shanghai's century-old architectural history,'' he says. In addition to the architectures in Chinese Renaissance Style, the Chinese architects have also played important roles in many Western-style buildings. Their names may not be shown on the list of designers, their work is nevertheless an integral part of these grand period buildings.

``In my research, I found that these Chinese architects were remarkably brilliant. Their talent and creations were able to compete with their Western counterparts,'' says Qian. ``Take architect Guo Yanmo for instance. His work, the Shanghai Labor Union on Zhongshan Road E1, was done in a perfect Western classic style, with authentic, exquisite Greek Corinthian columns.'' Yet as obviously talented as they were, life was not easy for Chinese architects in Shanghai during the Concession era.

``It' was very difficult for a Chinese architect to find a job at that time. Owners, who were mostly foreigners, preferred foreign architects,'' he says. ``That's why 80 percent of Shanghai's cinemas and theaters were designed by Chinese architects since most of them were run by Chinese.'' The Majestic Theater by Fan Wenzhao, for example, is a perfect symphony of sound, light and temperature; Yang Xiliu's innovative glass tower on the Paramount, with a flagpole pointing to the sky, adds grandeur of the three-story dance hall.

The Shanghai Concert Hall by 37-year-old Fan Wenzhao and 32-year-old Zhao Shen was designed with such a perfect sound effect that the government spent a year to move it safe and sound to its current location, 66.4 meters away, due to urban construction planning.

`I have just returned from a visit to Pennsylvania University in the United States. I was startled to see so many exhibits at the university museum -- trophies, certificates, pictures and models -- all by Chinese architectural students during the 1920s,'' says Wu.

``A professor with the Architecture Department told me that these smart Chinese students, who hadn't touched any Western architecture before, perfectly mixed Western and Eastern classic and modernism together.'' There's no doubt that they were talented. No doubt, too, that they have been too long neglected. So be sure to remember, when you next stroll the Bund, exclaiming over ``the museum of multinational architectures,'' that many of Shanghai's buildings have Chinese surnames.
Today's Top News
Top Life News

Technology sector gets US$1.3 billion




Chirac talks about lifting arms ban on China




Oil prices follow global market rises




4 US citizens killed, mutilated in Iraq




Chinese kidnapped in Sudan back home finally




Hubei brings home fight against AIDS