Why Chinese women seek foreign husbands
(Shenzhen Daily)
Updated: 2004-04-01 10:29
The number of transnational marriages each year in Shenzhen has not changed significantly in the past few years.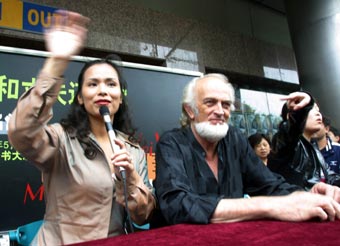 Weiwei, a famous pop singer in China, waves at camera with her American husband Mr Michael Smith, a famous pianist composer, at a news conference. [file photo]

The figures between 2001 and 2003 respectively are 156, 150 and 193, according to an official surnamed Liang with the Shenzhen Municipal Civil Affairs Bureau.

The people who have married foreigners were mostly women above the age of 30. Most of them married Western men.

Long Yongkui, an editor with the Shenzhen Times weekly, gave eight reasons local women sought a mixed marriages.

1. Good men in Shenzhen were already married. The women's increasing age comes in to a problem limiting their choices.

2. Shenzhen men are prone to be easily tempted.

3. Local wonmen were not attractive enough to find a local man to marry.

4. Wanting to find men who would respect and live peacefully with them.

5. They assumed that life abroad was better and there was less pressure to find a job.

6. Wanting to study and start a business abroad.

7. Children would have a better future abroad.

8. Just loving to marry foreigners.

Some women sought to meet foreigners through Internet chatting, others met their future husbands while working in foreign-invested companies. Some also used matchmaking agencies, Long said.



Today's Top News
Top Life News

Technology sector gets US$1.3 billion




Chirac talks about lifting arms ban on China




Oil prices follow global market rises




Iraqis drag 4 US bodies through streets




Chinese kidnapped in Sudan back home finally




Hubei brings home fight against AIDS