Venus Williams ousted at Nasdaq-100 Open
(Agencies)
Updated: 2004-04-01 10:11
Tape took care of Venus Williams' sprained right foot. There was no remedy for the shaky serve and late fade.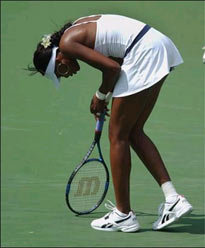 Venus Williams reacts after injuring her right foot during a match against Elena Dementieva of Russia at the Nasdaq-100 Open in Key Biscayne, Fla., Wednesday, March 31, 2004. Dementieva defeated Williams 6-3, 5-7, 7-6 (3). [AP]

Williams was injured during the second set Wednesday, but sloppy shotmaking hurt her more, and she lost to Elena Dementieva 6-3, 5-7, 7-6 (3) in the quarterfinals of the Nasdaq-100 Open.

A three-time champion at Key Biscayne, Williams came up short in her bid to reach a semifinal for the first time since Wimbledon in July. Dementieva survived a match point and erratic play of her own to win the tense but unsightly 2 1/2-hour duel.

"It was a very difficult, long, but I think interesting match," the No. 5-seeded Russian said.

The upset had all the characteristics of a Venus loss: She double-faulted 11 times, committed 51 unforced errors and played hurt.

Williams took a nine-minute timeout for treatment when she rolled her right foot in the final game of the second set. She actually played better when the match resumed, winning 14 of the next 17 points to take a 3-0 lead in the last set.

But serving for the match at 5-3, Williams hit four double-faults, including three in a row to lose the game.

"It was sunny and the wind kept blowing and my toss got crazy," she said. "That was not good."

The errant serves didn't surprise Dementieva.

"I just said to myself, 'She's just like you, you know, she can be nervous,'" Dementieva said with a laugh.

There were other missed chances by Williams. She held a match point at 6-5 but sailed a forehand long, then committed five unforced errors in the tiebreaker.

Slowed by injuries since last summer, Williams has slipped to No. 17 in the rankings and has played only 10 matches in four events this year, never advancing beyond the quarterfinals. Seeded second at Key Biscayne, she was unable to take advantage of a field missing the world's five highest-ranked players, including No. 1 Justine Henin-Hardenne.

Asked to assess the state of her game, a subdued Williams said: "Just on the up and up."

In men's play, No. 3-seeded Guillermo Coria became the first semifinalist by beating unseeded Nicolas Kiefer 6-3, 6-3. Coria will play Friday against No. 21 Fernando Gonzalez or unseeded Andrei Pavel.

Williams' defeat spoiled a potential renewal of her sibling rivalry with younger sister Serena in the final Saturday. Instead, Dementieva advanced to the semifinals, where she'll play fellow Russian Nadia Petrova, seeded eighth, or No. 21 Nathalie Dechy.

Top-seeded Serena Williams will play No. 25 Eleni Daniilidou in the other semifinal.

Venus led 6-5, 30-15 in the second set when she rolled her foot hitting a forehand, then bent over in pain as Dementieva smacked a winner. Williams limped to the corner, then back to her chair.

Williams later said she hurt her ankle, but the WTA Tour described the injury as a foot sprain. A trainer taped both the foot and ankle, and when play resumed, Williams won the next two points for the set.

She seemed bothered by the injury on only a few points the rest of the way.

"I was just thinking that she's a very good actress," Dementieva said. "She was moving much better after the break."

When told of Dementieva's comment, Williams responded: "Maybe I should talk to her. I clearly twisted my ankle and I had issues there. If that's the way she feels, that's fine. These days, in order to be a champ and to be a winner, you have to play under all circumstances, and I think that's what I did."

Dementieva held her own in rallies, but her serve ¡ª long the weakest part of her game ¡ª became progressively worse. Serving at 5-6 in the final set, she double-faulted twice and lobbed in several second serves at under 70 mph, but still managed to hold.

Dementieva, who matched Williams' total of 11 double faults, sighed when asked about the problem.

"I don't like the question," she said. "Everybody is asking me about my serve. If you want to be a champion, it's not about your serve, it's about your whole game. I want to play, no matter how good my serve."

Dementieva won a 21-shot rally to start the tiebreaker and belted a ferocious forehand to reach match point. Williams then dumped Dementieva's 63 mph serve into the net, and the Russian celebrated with curtsies to all four sides of the stadium.

"From the beginning of the match," Dementieva said, "I had the feeling that I'm in good shape and I have a chance to beat her."
Today's Top News
Top Sports News

Technology sector gets US$1.3 billion




Chirac talks about lifting arms ban on China




Oil prices follow global market rises




4 US citizens killed, mutilated in Iraq




Chinese kidnapped in Sudan back home finally




Hubei brings home fight against AIDS