Hubei brings home fight against AIDS
By Zhang Feng (China Daily)
Updated: 2004-04-01 09:03
Lao Wang, an HIV/AIDS sufferer in a remote village of Hubei Province, now has a new "home" where he can share his innermost feelings with fellow AIDS sufferers.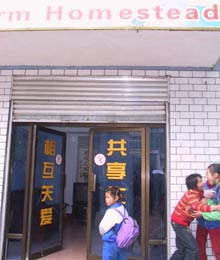 Children play near the gate of a "Warm Homestead," an organization established in Junchuan Town of Hubei Province to provide better care for HIV/AIDS sufferers. [China Daily]

The home comprises two parts: an activity place and a mutual-support group for the 11 HIV/AIDS sufferers who, from nearby villages, who were all infected with the deadly virus through selling their blood plasma in the early 1990s.

"We can share our suffering and happiness in the home and can also enjoy various activities, such as playing Chinese chess, in the activity room," says Lao Wang, the head of the group.

Besides providing a place where they can talk honestly and openly with each other and even with visitors, the home also offers them medical services, information about physical and mental health, and even classes to teach them new skills to increase their incomes.

"We can also report our difficulties and new needs to the local authorities through the group. In fact, we treat each other as family members and the centre as our home," says Xiao Xia, a 35-year-old HIV carrier.

HIV/AIDS sufferers

As HIV/AIDS sufferers cannot do heavy farm work, the home also offers classes to teach the members modern farming technologies and handicraft skills, such as making summer sleeping mats using locally harvested materials, to help them increase their incomes.

The facility, which was established in November 2003 in Junchuan Township's Fujiapeng Village, in the city of Suizhou, Hubei Province, is the first village-level organization in China set up to help HIV/AIDS sufferers lead a better life.

China's first village-level HIV/AIDS prevention and control society was also set up at the same time in Fujiapeng. The doctors and officials of the village are members of the society.

It is in charge of disseminating HIV/AIDS prevention information, organizing voluntary consultations and testing, and devising ways to care for the HIV/AIDS-stricken farmers and their family members.

The home and the society are only part of the work that has been done in Junchuan Township, one of the 51 regions in the country designated to do pilot work on comprehensive prevention and control methods to stem the spread of HIV/AIDS.

It should be noted that this pilot work has been started in China's lowest-level administrative division, the village, in an effort to seek better ways and an effective working system to fight against the disease and treat the sufferers.

Nobody yet knows how long it will take to get a practical working system going, turning the central government's intention of establishing an effective network to combat the disease and treat the victims into a reality.

Up to the present, the long-standing ignorance of the disease has led to the loss of many lives and much suffering.Junchuan Township has more than 70,000 residents, but still does not know exactly how many HIV/AIDS sufferers there are within its jurisdiction.

A pilot town's story

Among its 42 villages, 31 had reported HIV/AIDS cases by the end of December, 2003.

More tests are being done to ascertain exactly how many HIV/AIDS sufferers there are in this township.

However, one thing that is very clear is that the majority of the HIV carriers in the township are young farmers who in the 1990s illegally sold their blood plasma in some regions of Central China's Henan Province, which is near their Hubei township. Hundreds of farmers in the township have sold their blood plasma illegally, and the HIV infection rate among those so involved is about 30 per cent, experts say.

Totally, in Hubei Province, more than 50 per cent of its reported 1,301 HIV/AIDS sufferers have been infected in this way.

The first HIV/AIDS case in the township was found in 2001.

"The first report of the disease caused great and widespread panic among the residents because of the lack of understanding of the disease," recalls Huang Jijun, director of the township government.

To make it worse, some AIDS patients said that they would take revenge against society by spreading the disease. Rumours abounded that they had injected their blood into watermelons produced in Junchuan.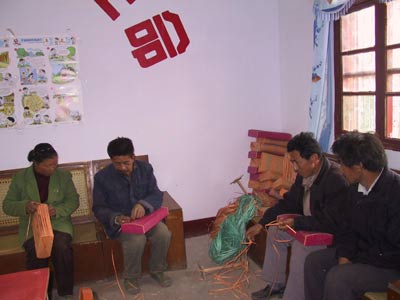 Four HIV/AIDS patients learn to make pillows with sun-dried grass at the mutual-support group in Fujiapeng Village. [China Daily]

A massive and timely public education campaign has played an important role in helping residents to calm down and not take discriminatory actions against HIV/AIDS sufferers, Huang says.

In the past three years, the local government has spent more than 1 million yuan (US$120,000), helping HIV/AIDS sufferers with medical treatment, daily living needs, agricultural production, the education of their children and much more.

At the beginning of the this year, the Suizhou city government decided to implement eight measures in Junchuan Township:

-- Establishing mutual-support groups in every village with more than 10 HIV/AIDS cases by the end of this June. These groups will be financially supported by the seven State-owned enterprises in Suizhou.

-- Allocating a total of 192,000 yuan (US$23,400) to build new houses or improve the existing run-down houses of 48 HIV/AIDS families. All the construction work is expected to be finished by the end of this June.

-- Giving each of the 21 orphans left by AIDS victims 300 yuan (US$36) per month until they reach the age of 18. If they go to university, the support will continue until they graduate.

-- Having civil affair departments give various forms of support to the 24 lonely senior people left behind by their deceased HIV/AIDS-infected children.

-- Providing all the children of HIV/AIDS sufferers with free education.

-- Exempting all HIV/AIDS sufferers from various taxes and fees, such as agricultural taxes, and water and electricity fees.

-- Sending out special working groups from various departments of the Suizou government to the villages seriously stricken by the virus to help the village officials do better work for the infected villagers.

-- Supporting the construction of the "Warm Homestead" in the township to provide better comprehensive care for HIV/AIDS patients.

The so-called "Warm Homestead" in Junchuan is the first township-level place providing comprehensive care including consultation, education, diagnosis, and medical treatment for HIV/AIDS patients.

It has been in operation since May 2002.

Five doctors have been sent by the town-level hospital to work in the Warm Homestead.

They often go to the villages to do tests and diagnoses, and even send medicine to the sufferers directly.

The Warm Homestead is also a grass-roots base for the government to provide free medical services, mainly anti-virus treatments.

Since July 15, 2003, a total of 81 AIDS patients in the township have received anti-virus treatment.

One of the most important tasks for doctors in the Warm Homestead is to help the patients to overcome the side effects induced by the anti-virus medicines.

They are to remain on call all the time under all weather conditions once a patient reports serious side effects.

Since the beginning of the anti-virus treatments, no patients have died from the side effects in the town.

Many patients who wanted to quit the anti-virus treatments have been persuaded by these doctors and have been pulled back from the verge of death.

However, the single Warm Homestead in the township is not enough to handle patients' needs.

More qualified doctors and equipments are needed to allow the Warm Homestead to offer better care service for the patients, says Huang Jijun.

Historical lessons

The following three to five years will be a peak period, in which a large number of HIV carriers will become patients, which means there will be a rapid increase of patients wanting treatment and more families needing support.

This will place a heavy economic burden on the township government, Huang notes.

In addition, there are more than 6,000 people who have sold blood plasma or have close contact with blood sellers, who have not been tested, which makes it very difficult for officials and doctors to prevent the virus from spreading.

Fortunately, thanks to the comprehensive care and the ongoing public education, farmers are now willing to be tested and know how to protect themselves and others, says He Weihua, vice-director of Suizhou Centre for Disease Control and Prevention.

All the 6,000 people are expected to be tested gradually over the coming two years.

Before finally being tested positive for HIV/AIDS, Lao Wang sold his blood plasma for nearly 10 years.

"At the very beginning, I was persuaded by other villagers to sell it. They said that it would do little harm to my health and that I would make much more money than I did farming," says Lao Wang.

In the first several years, I sold my blood plasma about a dozen times a week, he told China Daily.

The sale of his blood plasma really did bring him a lot of money by local farmers' standards. In his village, Wang has a new two-storey home that is quite conspicuous.

"The house cost me nearly 10,000 yuan (US$1,200), and most of the money came from selling my blood plasma," Wang says.

However, to cover his medical expenses over the past several years, Wang has had to borrow nearly 4,000 yuan (US$490) from his relatives and the bank.

Before the final diagnosis, he had exhausted his finances paying for the treatment of various diseases caused by the virus, such as hepatitis and bone disease.

And Xiao Xia, who has borrowed more than 10,000 yuan (US$1,200) for medical treatment, now has nothing in his home.

His wife has left him, and he has not heard from her in two years.

"I went to Shenzhen for several months after I knew I was infected with the virus, and I wanted to die there in 2000," Xiao says.

Finally, village officials and relatives brought him back home. And the mutual-support group have given him the confidence to live on.

When asked whether he hates the persons who first persuaded him and set him up to sell his blood plasma, Xia says, "It is no use to hate them, and in fact, many of the organizers have died now."

"Now, we all know what HIV/AIDS is and know how to prevent it," several residents of Lao Wang's village told China Daily.

In fact, various public education activities including the showing of 100 anti-AIDS movies in the villages, spreading publicity materials and holding training classes have been held in the epidemic areas.

However, for people there, most of whom are still suffering from poverty, the most important thing in their lives is still their income.

In China, there are about 90 million farmer-turned workers in urban areas. How to improve their awareness of HIV/AIDS prevention has become equally as important a topic as finding ways to raise their income.

A nationwide struggle

Because of ignorance among people and officials, the HIV virus has spread rapidly in this, the world most populous country, over the 20 years since it was first detected in China in 1985.

An official report in 2003 estimated that there are now 840,000 HIV/AIDS sufferers in China, including 80,000 full-fledged cases.

Drug abuse, illegal blood plasma collection and unsafe sexual contact are the top three causes of the spread of the virus which has been increasing at a rate of more than 30 per cent annually.

More than 70 per cent of these carriers are located in rural and poverty-stricken areas.

Although measures have been in place since the late 1990s when a long-term strategy for the fight against HIV/AIDS was adopted by the central government, truly landmark work did not start until the second half of last year when the country was alerted by the SARS (severe acture respiratory syndrome) epidemic to the need to pay more attention to infectious diseases.

Deputy Health Minister Gao Qiang promised in September at an international conference to provide free medical service for all poverty-stricken HIV/AIDS sufferers in China.

In addition, Vice-Premier Wu Yi, also the health minister, asked the government to strengthen the pilot work in 51 regions to find better ways for the country's prevention and control work.

There are two main tasks before the governments at all levels: to prevent the virus from spreading from high-risk people to the general population, and to provide better medical treatment for AIDS patients.

Official reports have revealed that in China more than 80 per cent of AIDS patients do not get necessary medical treatment.

Thus, how to better care for these AIDS patients and HIV carriers in this still developing country has become a major headache for the central government, which, in response, is making unprecedented moves to fight against the virus.

The central government hopes the pilot work will help it develop a system that will be effective under the country's present economic and social development conditions.
Today's Top News
Top China News

Technology sector gets US$1.3 billion




Chirac talks about lifting arms ban on China




Oil prices follow global market rises




4 US contractors and 6 soldiers killed in Iraq




Hubei brings home fight against AIDS




NPC hears views on HK law