Greek told strikes cound threaten games
(Agencies)
Updated: 2004-04-01 09:01
A strike by two million Greek workers has prompted Olympic organisers to warn Athens that any more action could threaten the Games in August.
The $136 million giant glass-and-steel dome over the main Olympic Stadium may not be ready. [AP]

Wednesday's work stoppage -- called by GSEE, Greece's largest private sector union -- comes on the same day as a ceremony marking the arrival of the Olympic flame in the capital.

But with Athens building firms already racing against the clock to have stadiums and other vital and delayed infrastructure ready in time, the International Olympic Committee (IOC) said the Greeks would have to make up for the effects of the strike.

"As long as they can still compensate with work on Saturdays and Sundays I think it won't be a problem," the IOC's top inspector Denis Oswald told reporters on a visit to the Olympic cycling stadium, where staff appeared to be working normally.

"But of course if this strike will be repeated many times it would have an effect," Reuters reported Oswald as saying.

In addition to construction workers, the 24-hour national strike includes employees at public transit and port facilities, as well as some banks.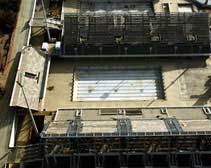 Construction of the roof over the Olympic swimming pool has been abandoned. [AP]

The country's two main carriers -- Olympic Airlines and Aegean Airlines -- said flights would run as scheduled Wednesday.

The GSEE is pushing its demands for an 8-percent pay rise after earlier rejecting an offer by employers for a 3.2-percent increase.

Christos Polyzogopoulos, the GSEE president, said the union would not shy away from more protests if it failed to reach a deal -- even if it meant disrupting Olympic preparations.

"If these provocative positions are maintained, a conflict will be inevitable with all its consequences for the country's priorities ahead of the Olympic Games," GSEE said in a statement, referring to employers' offer.

The new conservative government, which knocked the Socialist party from power in March 7 elections, is racing to meet tight deadlines for the August 13-29 Games, with builders working round the clock on key sites.

Construction of the roof over the Olympic swimming pool has been abandoned.

Pressure to meet construction deadlines has resulted in the previous government scrapping several projects that were running late and to scale back others.

Deputy Culture Minister Fani Palli-Petralia said Olympic preparation costs have exceeded the $5.6 billion budget.

"A first inventory shows there are overruns," Palli-Petralia told The Associated Press. "I cannot give a total estimate this minute."

She claimed the former government "lost control" of the Olympic spending.

Palli-Petralia also suggested the new government could trim back some nonessential projects such as landscaping.

Earlier this month, officials canceled a much-delayed plastic roof for the swimming venue.

Another delayed work -- the $136 million steel-and-glass roof of the main Olympic stadium -- will be ready by a late June deadline set by the International Olympic Committee, she promised.

The entire stadium complex is scheduled to be ready on July 20 -- just three weeks before the games.

Still, contractors said they were confident they would manage to make up for the lost time.

"One day (of a national strike) will not affect our work. Any delay can be covered with overtime and working on Sundays and holidays," Dimitris Koutras, chief executive of Aktor construction firm, told Reuters.
Today's Top News
Top World News

Technology sector gets US$1.3 billion




Chirac talks about lifting arms ban on China




Oil prices follow global market rises




NPC hears views on HK law




Neighbours find ways to work together




Dead and cold, lobsters 'live' life anew