Condom machines looted in Shanghai
(eastday.com)
Updated: 2004-04-01 08:58
Some districts in Shanghai reported the theft and destruction of several condom vending machines after the city launched a pilot program to promote safer sex last May.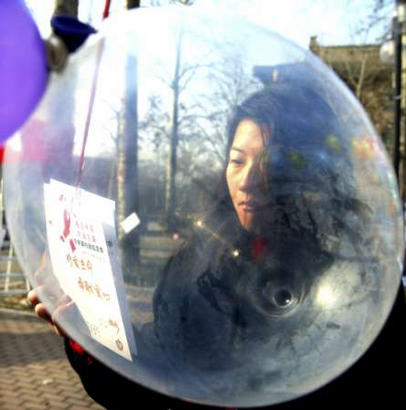 Officials said such behavior was not common, but it did arouse the health authority's attention.
On monday, a vending machine installed outside a public toilet on Guoding Road of Yangpu District was stolen. Another machine at Tongji University was also ruined - the money and condoms were taken.
"We have required the district commission to tighten the management or remove the machines to better sites if necessary," said Shao Youjuan, director of the Drug and Tool Management Center under the Shanghai Population and Family Planning Commission.
As a move to prevent AIDS and other sexually transmitted diseases, the commission distributed about 230 machines in several districts including: Yangpu, Nanhui, Xuhui, Luwan and Huangpu.
"The sales are so-so, as it is taking a long time for residents to accept condoms and understand their use," Shao said.
According to the commission, it was not the first time vending machines were targeted by sneak thieves or mischief makers.
"In addition to theft, someone used steel wires to draw condoms out, insert various stuff inside the machine or even plug the coin slot for fun," said a commission official identified as Duan. "We have to spend a lot to repair the machines. Since all the machines are installed in public places and available around-the-clock, it is difficult to prevent the improper deeds."
Officials claimed the condom vending machines were there to promote a healthy lifestyle.
"I think the machine reflects improvement in sex education. It is so indecent to destroy the machines or steal money and condoms," said a company clerk surnamed Xu.
Officials also said thieves can't make much from stealing the contents of machines.
"We just put 20 to 30 condoms in each machine. They are checked every few days to collect money and add condoms," said Shi Yafang from the commission's Yangpu branch. The 50 machines in Yangpu District sold 21,152 condoms from June to December last year. Every machine sold an average of two condoms per day.

Today's Top News
Top Life News

Economic boom drives IPO rush for Chinese companies




Technology sector gets US$1.3 billion




Chirac talks about lifting arms ban on China




Oil prices follow global market rises




Iraqis drag 4 US bodies through streets




Chinese kidnapped in Sudan back home finally