Annan announces Cyprus peace plan
(Agencies)
Updated: 2004-04-01 08:47
U.N. chief Kofi Annan announced Wednesday he was putting a plan to end 30 years of Cyprus partition to an April 24 referendum on the island and appealed to Cypriots to approve it.
Addressing a televised closing ceremony for week-long talks held at the Swiss Alpine resort of Buergenstock, Annan said the plan was Cyprus' best chance ever for peace, and for Greek and Turkish Cypriots to join the European Union together on May 1.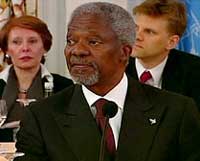 Annan: "The choice is between this settlement and no settlement." [UNTV]

"This is a moment of high drama," Annan told the ceremony. "There have been too many missed opportunities in the past. I urge you not to make this mistake again," he added, in comments directed at Turkish and Greek Cypriots who will take part in separate referendums.

Both sides must approve the plan, forming a loose union of two ethnically-based zones.

Turkish Prime Minister Tayyip Erdogan, Greek Prime Minister Costas Karamanlis, Greek Cypriot President Tassos Papadopoulos and Turkish Cypriot Prime Minister Mehmet Ali Talat smilingly mingled together at the ceremony just minutes before the talks deadline of midnight expired.

There was no agreement between the Greek and Turkish parties on many of the details that will be put to the referendums but in the end they decided to at least step around the differences so the people of the island could have the chance to decide.

"It is now up to the people of Cyprus and its political leadership to make the final decision," Karamanlis said.

Tensions over Cyprus have brought NATO partners Greece and Turkey to the verge of war on at least two occasions. The island has been partitioned into a Turkish Cypriot north, recognized only by Ankara, and a Greek south since Turkish troops invaded 30 years ago in response to a coup by militant Greek Cypriots.

Reunification and the entry of a united Cyprus into the European Union would head off serious diplomatic problems for the EU, Greece and not least of all Turkey.

Reunification of Cyprus will give a great boost to Turkey's hopes of obtaining a date for the opening of EU entry talks.

"In reality there is no losing party in the end," Erdogan told reporters.

Turkish stocks have hit all-time highs this month on anticipation of a deal.

"The chance (for peace) is between this settlement or no settlement," Annan said. "This plan is fair and is designed to work."

Emotions run high on both sides of the "Green Line" that divides the island. Thousands died in communal bloodshed after independence from Britain in the 1960s. Many more were killed or lost their homes in the 1974 Turkish invasion in response to a militant Greek Cypriot coup aimed at union with Greece.

LAND AND HOME

Differences had appeared to center on the future of Turkish and Greek forces on the island and whether a deal would live up to EU law on issues like freedom of movement and property. There will be debate on both sides and in Turkey and Greece about whether concessions made were too great.

The poorer Turkish Cypriot minority had been seeking and appeared to have found stronger reassurances on the number of Greeks who would be allowed to settle in their northern part of the island. Turkish nationalists appeal to fears of Turkish Cypriots being "swamped" and eventually driven from the island.

As the clock ticked to Annan's midnight deadline, there was a frantic rush of diplomacy by both Greeks and Turks, including 11th-hour appeals for help to Secretary of State Colin Powell by foreign ministers of both countries.

"What I have been saying to all the parties is this is a historic opportunity," Powell told a news conference. "This is the time for leaders to show flexibility, for leaders to be ready to compromise for the greater good of the Cypriot people."

The United States and Britain have key strategic interests in settling the issue. British bases there were important staging areas in the U.S.-led war on Iraq and house listening posts serving London and Washington that monitor communications through the Middle East and beyond.

About two-thirds of the east Mediterranean island's 800,000 population are Greek Cypriots who are far wealthier than Turkish Cypriots who control only one-third of the territory in the north and are only recognized as a state by Turkey.
Today's Top News
Top World News

Technology sector gets US$1 billion input




Chirac talks about lifting arms ban on China




Oil prices follow global market rises




NPC hears views on HK law




Neighbours find ways to work together




Dead cold lobsters 'live' again