McDonald's hires daughter of Thai PM
(Agencies)
Updated: 2004-03-31 10:17
If Paetongtarn Shinawatra thought she could keep a low profile Monday on her first day working at McDonald's, her hopes were dashed when her father, Thailand's Prime Minister Thaksin Shinawatra, dropped by for a takeaway.
Thaksin, who became one of Thailand's richest men by investing in telecommunications, let the phalanx of reporters trailing him know that even in the family of a billionaire, the younger generation must learn the value of money and hard work.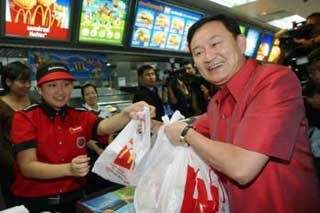 Thai Prime Minister Thaksin Shinawatra buys a hamburger from his daughter, Paethongthan, 18, at a fast food restaurant in a Bangkok mall on March 29, 2004. [Reuters]


"Thai kids, when they finish school, they don't know how to work," said Thaksin, as his giggly daughter stood by. Paetongtarn, 17, will be earning 23.75 baht (US$0.60) per hour in her part-time job.

"I just want her to have the experience and to know about life, because she is the youngest child and when she was born her parents already had status," he said. "Money isn't the main issue. We want her to find experience."

Thaksin didn't say how long he expected his daughter to work at the fast-food restaurant.

Paetongtarn's older sister and brother are among the country's richest shareholders, thanks to a law forcing Cabinet ministers and their wives to give up their shares in most public companies. Thaksin transferred his holdings to his two oldest children in exchange for token payments.

But Paetongtarn will have the satisfaction of knowing she is following in her parents' footsteps.

When Thaksin studied for his undergraduate degree in criminal justice at Eastern Kentucky University in the United States, he worked at a Kentucky Fried Chicken restaurant.

And when he pursued a doctorate at Sam Houston State University in Texas in the late 1970s, his wife Potjaman helped pay the bills with a job at Burger King.
Today's Top News
Top World News

Nation indignant over US arms sale to Taiwan




Taiwan court to hear recount lawsuit




China to US: Stop spying in border areas




2008 Games to bring US$16b business




Flight insurance dispute soars




Bullfights cancelled over animal welfare