Michael Jackson voted most foolish American
(Agencies)
Updated: 2004-03-31 09:57
Beleaguered pop star Michael Jackson and his little sister Janet have earned the dubious distinctions of being named the most foolish Americans of 2004, organisers of the annual awards announced.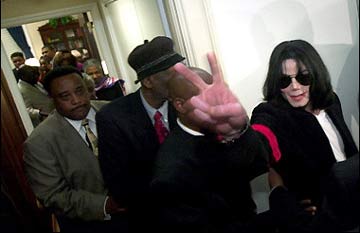 Michael Jackson makes his way out of a House office during a visit to Capitol Hill in Washington, DC. The 'King of Pop' visited the capital to thank politicians for their work and giving voices to those without. [AP Photo]
It marked the second time in a row that the "King of Pop," who is currently facing child molestation charges, has snatched the April Fools Day award as the "Most Foolish American" in a US telephone survey.
In the poll of 1,016 Americans carried out by New York-based public relations consultant Jeff Barge, 77 percent of respondents voted Michael Jackson to the top of the fool's list.
Janet Jackson came in a close second, backed by 70 percent of respondents. The female performer made front-page news following the exposure of her breast, or "wardrobe malfunction," during a half-time show of American football's Super Bowl in February.
"Obviously they are giving each other advice," said Barge of the pop siblings. "And it's not good advice," he added.
Michael Jackson was arrested in November on charges of sexually abusing a 12-year-old boy at his Neverland Ranch a year ago.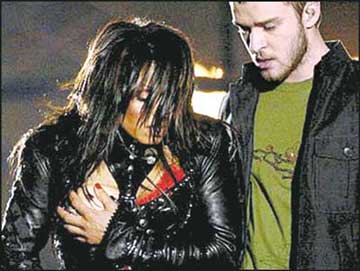 Janet Jackson (L) reacts after fellow singer Justin Timberlake ripped off one of her chest plates at the end of their half time performance at Super Bowl XXXVIII in Houston, February 1, 2004. [Reuters]
The singer was also named the most foolish American of 2003 after dangling his baby son over a Berlin hotel room balcony above press photographers last year.
In third place on Barge's list was US domestic diva Martha Stewart, who was earlier this month convicted of obstructing a federal inquiry into a suspicious stock sale, leaving her facing a likely prison sentence.

Stewart claimed 70 percent of votes for the foolish, losing second place to Janet Jackson by just one of the 1,016 votes cast in the survey.
Stewart was followed by pop princess Britney Spears, whose 55-hour Las Vegas marriage in January earned her fourth place in the rankings with 69 percent of respondents saying she had "done something foolish" over the past year.
The telephone survey, conducted between March 19 and 22, has a margin of error of plus or minus three percent and was conducted with the assistance of Opinion Research Corp. Inc. of Princeton, New Jersey.
Today's Top News
Top Life News

Technology sector gets US$1.3 billion




Chirac talks about lifting arms ban on China




Oil prices follow global market rises




Iraqis drag 4 US bodies through streets




Chinese kidnapped in Sudan back home finally




Hubei brings home fight against AIDS