Knee injury sidelines Iverson for season
(Agencies)
Updated: 2004-03-31 09:29
Allen Iverson is out for the rest of the regular season.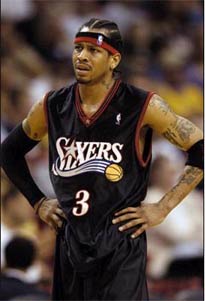 Philadelphia 76ers' Allen Iverson (3) looks over at his bench during the final minutes of the fourth quarter of game action against the Miami Heat in this March 20, 2004 file photo. [AP]

The Philadelphia 76ers announced Tuesday their All-Star guard will miss the final eight games because of persistent pain in his right knee, the same injury that kept him out of 13 of the last 19 games.

An MRI showed a small lesion under Iverson's knee cap, but there was no meniscal or ligament damage.

"It was better now to sit him down so it doesn't linger a lot longer," said team president Billy King. "It's probably best to get it where his knee is 100 percent. It's not a situation where Allen doesn't want to play. His knee just keeps swelling up."

The injury comes with the Sixers in danger of being eliminated from the playoff race. Philadelphia is 10th in the Eastern Conference, three games behind eighth-place Boston, heading into Tuesday night's game against Golden State.

King said Iverson's health would be re-evaluated if the Sixers make the playoffs.

"Worse case scenario, surgery would be an option if it does not calm down," King said. "Rest and rehabilitation hopefully will do it."

The injury was diagnosed Monday by New York Giants team doctor Russell Warren, who Iverson consulted for a second opinion.

King said the swelling affected Iverson's movement and quickness.

Messages left for Iverson and his agent, Leon Rose, were not immediately returned. Iverson was at the arena before the game, though he was not on the bench against the Warriors.

Iverson has now missed 27 games this season, the most in his eight-year career. The underachieving Sixers have been ravaged by injuries this season, enough to cost rookie coach Randy Ayers his job after only 52 games. Interim coach Chris Ford has battled with Iverson since he taking over.

Earlier this month, Iverson refused to come off the bench in Toronto after he was told he was not going to start.

King said those clashes had nothing to do with Tuesday's decision.

"He wants to play. What he doesn't want is people saying he doesn't want to play because of Chris Ford," King said. "He loves to play basketball."

Iverson, a five-time All-Star, continues to be the subject of trade speculation in Philadelphia. He signed an extension before the season that lasts through 2008-09.

The Sixers have been playing well recently without Iverson, the NBA's second-leading scorer averaging 26.4 points. The Sixers have won seven of nine and had a six-game home winning streak going into Tuesday night's game.

"We've been playing without Allen for a while now in hopes he would be back," Ford said. "You just keep playing. The schedule keeps coming."

Iverson was the NBA's MVP in 2000-01, when he led the 76ers to the Eastern Conference championship for the first time since 1983. He is scheduled to play for the United States at the Athens Olympics in August.
Today's Top News
Top Sports News

China alters visa application rules for US visitors




Training abroad gets stricter supervision




65 children poisoned after school breakfast




Nation continues to fight US motion




Farmers go looking for love in cities




Clashes bring Uzbekistan death toll to 42