Farmers go looking for love in cities
(China Daily)
Updated: 2004-03-31 09:26
Zou Qingfeng admitted he even "shocked himself" when he held up a poster in front of a downtown supermarket to tell the public he wanted to find a woman to marry.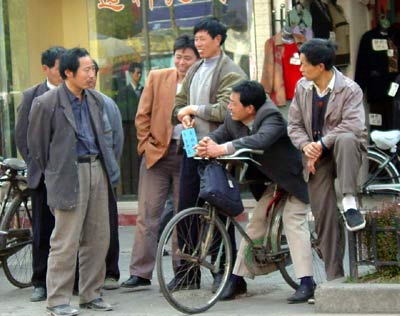 In China, more than 90 million rural people have left their home villages to work in urban areas. [newsphoto/file]
"I want to start a family but have no other way of finding my love," it read.
Zou, a farmer from Quzhou, East China's Zhejiang Province, has been working as a plasterer for seven years in Hangzhou, the provincial capital.
"I've never had a female co-worker to date and I'm not open enough to find a girlfriend at bars," he said.
At 29, Zou says he is too old for girls in his rural hometown who normally married at about 20.
"I feel ashamed of myself for the sake of my mother," he says. "She worried so much about me."
Zou said his mother died of a cerebral hemorrhage last year. "She was about to pray to Bodhisattva (Goddess of Mercy) for me to find my better half."
Zou's bravery might bring him good luck after all, because within hours of his public announcement, several girls dialled the number he left on the poster. But few rural labourers are as brave.
Love life
Hong Guorui, a 30-year-old farmer from Northwest China's Gansu Province, could only smile bitterly when asked about his love life.
"I'd love to have someone at my side, but I don't have any chances to meet girls," he said.
In an extreme case, a rural worker from Anhui Province, East China, plunged to his death from a high-rise building in downtown Hangzhou in early February.
A police investigation showed that the man, 36, had "bought" a "wife" from a human trafficker, a peasant woman from Central China's Henan Province, but he sent her home shortly after finding out she was already married and had children at home. He was so stressed after the incident that he killed himself.
A recent survey conducted by the Zhejiang People's Hospital revealed that 90 per cent of the 200 migrant workers surveyed, who were aged between 20 and 40, felt "lonely" in cities, while 35 per cent of them were not happy with their love lives.
"If not vented properly, their stress could lead to alcoholism, suicide, rape and even murder in the worst cases," says a psychiatrist.
In China, more than 90 million rural people have left their home villages to work in urban areas. Called migrant workers, most of them return home several years later. Others prefer to stay on.
Tang Mian, a native citizen of Hangzhou, has opened a special matchmaking club for migrant workers and admitted more than 130 members in the first month, including two from other cities.
"Members of the club include security guards, chauffeurs, tailors, chefs, construction workers and other blue collar labourers," says Tang. "Membership is free. I just want them to have someone to talk to. Life is not easy for these young people."
Liu Qinglei, 33, is a high earner in the club. The technician from the neighbouring Jiangsu Province is making 1,800 yuan (US$216) a month.
Liu says he hopes to find a spouse. "A family life will probably make me feel less estranged in the hustling city."
Yao Zhiping, a business owner who employs many migrant workers, says he hopes more rural labourers get married and settle down in the city. "I like to employ rural couples, because a man tends to be more responsible and hard-working with a woman at his side."
Tang says she wants to invite all the members on a spring outing, but too few women have registered. "We have 120 men but only 15 girls."
Yi Rong, a professor with Zhejiang University, says this is because more men than women have come to work in cities.
Peasant girls
"Besides, a peasant girl might have the chance to marry an urban man, but city girls are generally not likely to marry men from the countryside. City life is therefore harder for rural men," he said.
Aware of the gender imbalance, some areas in Zhejiang have encouraged more single peasant girls to work as housemaids and janitors in cities.
"Transient workers themselves often feel they are disadvantaged in the city," says Yi. "With a loved one and a cozy nest, they tend to feel secure and less hostile towards the city."
Today's Top News
Top China News

China alters visa application rules for US visitors




Training abroad gets stricter supervision




65 children poisoned after school breakfast




Nation continues to fight US motion




Farmers go looking for love in cities




Clashes bring Uzbekistan death toll to 42