Duststorm hits Beijing, north China
(chinadaily.com.cn)
Updated: 2004-03-29 14:29
Duststorm, which clouded much of northern China over the weekend, hit Beijing on Monday.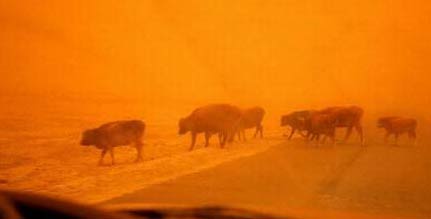 Sandstorm clouds Inner Mongolia Autonomous Region during the weekend. [Xinhua]
The floating dust in Beijing came from the Mongolian Plateau from Saturday night, said Li Tingfu, a weahterman from Beijing Meteorological Station.
Impacted by a strong cold front in West Siberia, dusty weather hit 11 provinces across northern China, covering an area of roughly 2 million square kilometres.
In parts of central and western Inner Mongolia there were sandstorms or strong sandstorms over the weekend, which cut visibility to between 100 and 400 metres in some places.
The unusual strong sandstorms began sweeping Inner Mongolia Saturday afternoon, leaving at least three people missing and complicating disaster relief efforts at an earthquake-hit areas in Xilingol League (prefecture) in northern Inner Mongolia.
More than 5,000 livestock got lost or died, said an official at the disaster relief headquarters.
Thus far, 80 per cent of the 1,500 tents put up after the earthquake have been destroyed, leaving some 10,000 earthquake victims in the open air waiting once again for help.
Starting from Saturday , the sandstorm, the strongest in recent years in the region, swept from west to east through Xilingol League with the maximum speed reaching 28 metres per second, lowering the visibility below 10 metres, according to the weather station.
Liu Jingtao, chief engineer at the regional meteorological bureau, said temperature in eastern and central Inner Mongolia fell below 0 C Saturday night. It is expected to further drop by 6 to 8 degrees yesterday and today.
"When the wind came, the sky turned from blue to red and then black in the afternoon," said a local resident. "I could see nothing outside the car as the visibility was even less than 10 metres," recalled a driver.
Today's Top News
Top China News

Jackie Chan: Taiwan election "biggest joke in world"




Duststorm hits Beijing, north China




State raises rice prices amid output drop




China accepts US demand on tax talks




Contract ensures more oil delivery to China




Interpretation of Basic Law in HK's interest