Irish pub smokers take last pre-ban puffs
(Agencies)
Updated: 2004-03-29 14:17
Smokers in local pubs enjoyed their final, bittersweet puffs Sunday as Ireland prepared to impose the world's most comprehensive ban on tobacco use in the workplace.
The ban, effective at the stroke of midnight, will bring potentially hefty fines on any business that permits smoking indoors ! a crackdown causing equal measures of pain and joy, particularly inside the country's smoky public houses.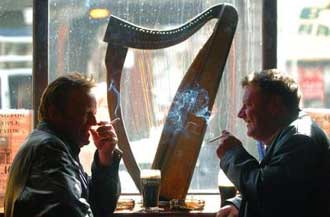 Two men smoke at The Oval Bar in Dublin, Ireland March 28, 2004. Ireland joined the ranks of New York and California on March 29, 2004 when its law banning smoking in any enclosed workspace- including pubs- commenced. [AP]

"I'm going out in a cloud of smoke!" said bricklayer Seamus McCann, who launched a Sunday pub crawl as soon as Dublin's bars opened at noon and kept two cigarettes going simultaneously as the clock ticked down to midnight.

Prime Minister Bertie Ahern, a nonsmoker and regular pubgoer himself, said he envisioned an Ireland where "future generations, thankfully, will never know what it was like to work in an enclosed, smoke-filled environment."

Health Minister Micheal Martin, who spearheaded the initiative after commissioning reports into the potentially deadly affects of secondhand smoke, said he expected it would "take six weeks to two months for the ban to settle down." His target, he said, was for more than 90 percent compliance within the year.

Several opinion polls in the past year have indicated most Irish adults ! about 30 percent of whom smoke ! support the government crusade against tobacco.

"It will be marvelous to have a night out, then not wake up in the morning with your hair and clothes stinking of smoke," said homemaker Eileen Kennedy, who generally smokes a few cigarettes a week ! when she goes out for a drink with her husband.

Martin's anti-smoking campaign ! which involves graphic billboards and TV ads showing the damage cigarettes can do to the lungs, heart and brain ! has inspired thousands to try to break the habit, seeking advice on nicotine-replacement therapy through a government-run help-line.

"I think, at the end of the day, a person can't argue with the logic of it because we all know cigarettes are bad for us," said cabbie Shay Kearney, a smoker who's thinking of quitting now. "And if it actually encourages people to give up, in the long term, maybe it's a good thing ! obviously it's a good thing."

Owners of pubs and hotels warn the ban will alienate many European tourists and force away loyal customers. One pro-smoking pressure group predicts up to 65,000 job losses as pubs and hotels in rural areas are forced to close. But the two major publicans' associations backed off threats to block the ban in court.

Oliver Hughes, who owns a pub in Dublin's Temple Bar tourist quarter, said he expected European visitors "may find it hard to understand that they can't have a cigarette in Dublin, but if they go to Amsterdam they can have a joint."

But the government's Office of Tobacco Control cites its own polls indicating twice as many people think they will go to the pub more often after the ban than will stay away because of it.

Commentators appear evenly split between those who admire Ireland for becoming the first nation on earth to impose such a ban and those who think the government is trampling on easygoing traditions and importing a brand of Puritanism better left in New York City or California.

"This will bring the greatest cultural change to Ireland since the Famine," said Nell McCafferty, a writer and devoted smoker who thinks the government is choking off personal freedoms. "And at least the British were sporting during the Famine ! if you could find a potato, they let you eat it."

Some of Ireland's 10,000 pubs plan to create chic new smoking areas outdoors, using canopies and outdoor gas fires. Others, particularly in poorly policed rural areas, say they will try to let their smoking regulars keep going and hope that the handful of Dublin-based inspectors enforcing the ban will pass them by.

But most pubs say they simply will order smokers outside onto the sidewalk if they want to light up.
Today's Top News
Top World News

Nation indignant over US arms sale to Taiwan




Taiwan court to hear recount lawsuit




NPC to interpret annexes of HK Basic Law




China to US: Stop spying in border areas




2008 Games to bring US$16b business




Flight insurance dispute soars