DRC on alert after coup attempt
(Agencies)
Updated: 2004-03-29 09:32
Kinsasa, Democratic Republic of Congo -- Congolese President Joseph Kabila has put the nation's population and security forces on high alert after authorities arrested around 15 men for an apparent coup attempt.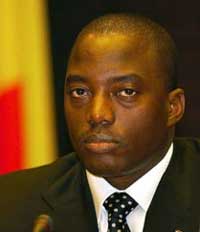 Congolese President Joseph Kabila. [AFP]

Gunmen attacked four military bases and two television stations in the capital Kinshasa early on Sunday and one soldier was killed, authorities said.

Britain's ambassador said the attacks -- the first political violence in the city for five years -- appeared to have been been an attempted coup in the vast, mineral-rich African country.

"The forces of order, the national police, the army, have received instructions to protect the population and the population must assist in this mission," Kabila said on state television after meeting top military officials.

"It was an attack by armed military personnel seeking to undermine the internal security of the Congolese state," Interior Minister Theophile Mbemba Fundu told a news conference.

"They were unidentified assailants, but we think with certain internal accomplices."

General Sylvain Buki, head of the country's land forces, said there was a second group of fighters that had not yet been found but said he did not know how many men were among them.

Officials paraded about 15 bare-chested men, some wounded, in front of reporters in the capital.

They also showed arms including about 100 AK-47 assault rifles, a variety of grenades and rocket launchers.

The attacks lasted for about four hours in the early hours of the morning, but there were sporadic outbreaks of gunfire later in the day.

Congolese officials said earlier that forces loyal to Kabila had clashed with ex-soldiers from the Zairean Armed Forces (FAZ) of late dictator Mobutu Sese Seko, after finding an arms cache.

Former FAZ fighters apparently want to be integrated into a new national army but feel they have been ignored.

"FAZ will work for anybody if the price is right. They're not exactly a cohesive movement," one political analyst in Kinshasa said.

Sunday's violence comes amid political tensions in Congo's power-sharing government, which took office last year, officially ending a five-year war which killed more than three million people -- mostly through starvation or disease.

The British ambassador in Kinshasa, whose embassy is near a palace housing Kabila's office, said the attacks appeared to be part of an attempted coup.

"There appears to have been a coup attempt. Rocket-propelled grenades were fired from the direction of the Palais de la Nation (Presidential Palace) in the direction of the president's house and fire returned," Ambassador Jim Atkinson told Reuters.

An adviser said Kabila had held talks with Congo's four vice presidents after the attacks, but did not say where they met.

About 3,000 to 4,000 ex-soldiers from FAZ -- including some of Mobutu's former personal guards -- live in Brazzaville, the capital of neighboring Congo Republic across the Congo river from Kinshasa.

Mbemba said it was unclear where the attackers had come from but that the city's river patrol had come under fire.

State television and a private television station had also been attacked.

Information Minister Vital Kamerhe said earlier that unknown assailants had attacked two army camps, a military airport and the naval base in the riverside city, but that the situation had been brought under control.
Today's Top News
Top World News

State raises rice prices amid output drop




Taiwan police disperses protesters




China accepts US demand on tax talks




Contract ensures more oil delivery to China




Interpretation of Basic Law in HK's interest




East aims at balanced development