French voters punish Chirac
(Agencies)
Updated: 2004-03-29 09:20
France's President Jacques Chirac's government flunked its first electoral test since taking power two years ago, suffering stinging defeats on Sunday in regional elections seen as a vote of censure against painful economic reforms.
The stunning rebuke, which breathed life back into France's left-wing opposition, will increase pressure on Chirac to reshuffle his conservative government and perhaps even ditch his prime minister, the unpopular Jean-Pierre Raffarin.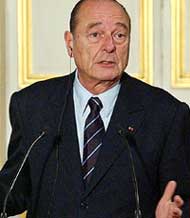 The National Front could drain votes from Chirac's right. [AP]

One of the few silver linings for the government was the moderate showing by the far-right, anti-immigration National Front. It polled just 13-14 percent of the vote ¡ª and less for its star candidate in the Paris region.

But the day belonged to the left. It polled between 49-50 percent of the vote and claimed 12 new regions, taking the total number under its leadership to at least 21 out of a possible 26. They include overseas territories in the Caribbean where results were expected later.

Chirac's right, in contrast, polled between 37-38 percent and clung on to just the Alsace region in northeast France and possibly the island of Corsica. Government ministers who hoped to lead regional councils were all defeated.

The hammering left Chirac's government in a bind. On the one hand, European Union partners are pressuring France to rein in its budget deficit to within EU limits. But at the polls, voters showed their reluctance to swallow the bitter pill of cuts to France's treasured public services and welfare protections.

Turnout was high, with around two-thirds of the country's nearly 42 million voters casting ballots.

A somber-looking Raffarin acknowledged the defeat but defended his government's record, saying it has stemmed crime, reformed the creaking state pension system and stabilized unemployment ¡ª still running at close to 10 percent.

"It's not enough, I know. The French told us clearly so today," he said. But "reforms must continue simply because they are necessary," he insisted.

The defeat marked a dramatic turnaround from a year ago, when Chirac was winning praise within France for his staunch opposition to the U.S.-led war in Iraq. His government's reforms have deeply divided France, chipped away at his popularity and sparked protests and strikes by everyone from theater workers to doctors, transport employees to state-funded scientists.

For the government, making it harder for state workers to get expensive full pensions and trimming the indebted health system's budget are part of keeping France competitive.

But the midterm election bruising, Chirac's first national test since he and his party swept presidential and legislative polls in 2002, led to immediate pressure from the opposition for a change in tack.

The leader of the triumphant Socialists, Francois Hollande, said a mere ministerial shuffle would not be enough, "no matter how big it is." Instead, he said the government must keep its hands off the public sector.

"The disastrous projects on pensions, health and schools must be abandoned," said Socialist Jack Lang, a former minister.

Chirac is not the only European leader in difficulty. Spanish voters shocked by train bombings that killed 190 people in Madrid on March 11 unseated the conservative government of Prime Minister Jose Maria Aznar in general elections three days later.

In Germany, Europe's biggest economy, mired in three straight years of near-zero growth, Chancellor Gerhard Schroeder has faced stiff resistance to plans to cut retirement and welfare benefits and reform health care.

Although French voters Sunday were choosing regional councils that handle transport, school-building and other local issues, many used their ballots to shout disapproval with the government.

"I feel like France's public sector is being sabotaged," said Elsa Quinette, a theater worker who voted for the left at a polling station in Paris' Montmartre district. "What the government is doing is so serious, I just had to speak out."

For the prime minister, defeat was personal. One of the regions lost by the government included Poitou-Charentes in western France, once Raffarin's fiefdom. The right suffered another high-profile defeat in the central Auvergne region, where former President Valery Giscard d'Estaing was washed away by the wave of wins for the left.
Today's Top News
Top World News

State raises rice prices amid output drop




Taiwan police disperses protesters




China accepts US demand on tax talks




Contract ensures more oil delivery to China




Interpretation of Basic Law in HK's interest




East aims at balanced development