Roadside bomb explodes in Baghdad, one hurt
(Agencies)
Updated: 2004-03-27 14:06
A roadside bomb exploded in central Baghdad on Saturday morning, badly damaging a vehicle and injuring at least one passenger, witnesses said.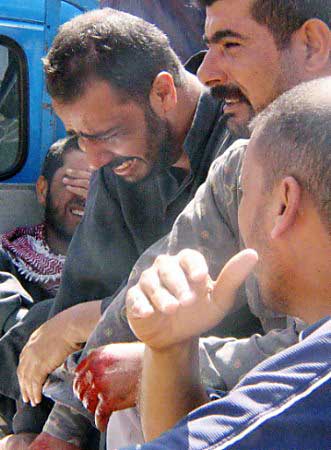 Iraqi men cry as they transport a man killed during a U.S. Marines operation in Falluja on March 26, 2004. U.S. forces fought running battles with insurgents on March 26, 2004 and eight civilians were killed, including three children, and 25 were wounded, a hospital official said. [Reuters]

Gunfire rang out immediately after the blast, which was strong enough to smash windows in nearby houses.

There was blood on the front seats of the large four-wheel drive vehicle, similar to those used by the U.S. military and foreign security firms.

Shattered glass and a blood-stained cigarette packet could also be seen.

Guerrillas have regularly planted roadside bombs to target U.S. soldiers and foreigners working alongside U.S-led occupying authorities.

Iraqi police guarded the area after the blast.

U.S.-led forces in Iraq blame guerrilla attacks on Saddam Hussein supporters and foreign Islamic militants. On Friday, a U.S. Marine, an Iraqi cameraman and at least six other civilians were killed in running battles between U.S. troops and guerrillas in the flash point town of Falluja, west of Baghdad.

The Marine's death took to 400 the number of U.S. troops killed by hostile action since the start of the war last March to oust Saddam.

With less than 100 days to go until a planned handover of power to Iraqis, U.S. officials are at pains to stress improvements on the ground in the country, such as mended water and electricity supplies, reopened schools and large numbers of new Iraqi security forces on the streets.

But security remains the main concern for most Iraqis.

Guerrillas have increasingly targeted civilians, Iraqi police and Iraqis working with Western organizations, seeing them as softer targets than U.S. troops.

U.N. officials began arriving in Iraq on Friday to help work out details of the planned transfer of sovereignty back to Iraqis on June 30.

U.N. electoral experts will look at the technicalities of holding elections for a transitional assembly, due by the end of January under an interim constitution drawn up by the U.S.-appointed Iraqi Governing Council.

They will be joined late next week by another team, led by former Algerian Foreign Minister Lakhdar Brahimi, focusing on the shape of an interim government to run the country until the elections.
Today's Top News
Top World News

Seven Diaoyu activists on way home




Beijing voices concern over unrest in Taiwan




Lenovo joins Olympic sponsors' club




NPC to explain Basic Law clauses




Boom of after-school education in China




Chinese workers win compensation suit