The Cecilia Cheung night to come
(Agencies)
Updated: 2004-03-26 10:29
Having long been the subject of tabloid headlines linking her to male singers such as Daniel Chan, Nicholas Tse and Jordan Chan, Cecilia Cheung this time catches the public attention for her talent rather than romances.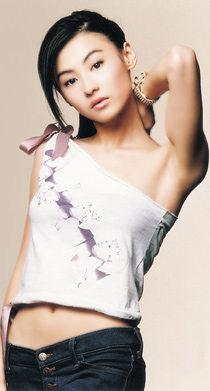 Hong Kong pop star Cecilia Cheung [file photo]

Cheung goes into the 2004 Hong Kong Film Awards as a triple nominee ¡ª two in the best acteress category for her performances in Lost in Time and Running on Karma, and one in the best original song category, with the theme from Lost in Time.

With only five years of acting behind her, Cheung displays her glittering acting talents in the roles which would have challenged many more experienced actresses.

Director Derek Yee likens Cheung to a student who can succeed in exams without studying. ¡°What she has is inherent talent mixed with skills,¡± he says. ¡°She can deliver the emotions very effectively.¡±

Yee, having directed Cheung in Lost in Time, can speak with some authority. In one of the pivotal scenes when Cheung learns of her fiance¡¯s death, Cheung successfully expresses a string of emotional transformations in just a few seconds, which is usually backed up by years of performing experience. But Cheung could achieve it at 23.

Considering Hong Kong¡¯s lackluster output last year, Cheung¡¯s role in Lost in Time is a frontrunner for the awards. Lost in Time will probably stand Cheung in better stead than Johnnie To¡¯s Running on Karma, where she plays opposite Andy Lau.

Cheung¡¯s strongest competition is expected to come from Carina Lau who portrays as the wife of a band leader in Infernal Affairs 2. Other best actress nominees include Sandra Ng as Ah Kum, the prostitute with a heart of gold in Golden Chicken 2, and Karena Lam in Floating Landscape.

It¡¯s no easy for a pretty woman to find a place in an industry obsessed by beauty. Cheung, although possessing the flawless features and sexy figure demanded of a leading lady, has undergone plenty of difficulties and drawbacks before coming into fame. And her eventful family life and romantic affairs also contribute to her molding of different characters.

Cheung was sent to Australia to study at the age of 14 when her parents divorced. At 17, she returned home. After she appeared in a television commercial for a soft drink, talent agents set their eyes on her.

In 1999, Cheung starred as a young nightclub hostess who won the heart of Stephen Chow¡¯s impoverished actor in King of Comedy. Despite being a supporting role, Cheung did her best. It was enough to garner her a nomination for best newcomer at the 1999 Hong Kong Film Awards.

But it was Jingle Ma¡¯s tearjerker, Fly Me to Polaris, released in the same year, that forged Cheung¡¯s career as a glittering A-list actress. Ma once said she was without a parallel for her age.

¡°Despite her age, she¡¯s experienced a lot by being sent to study overseas at a young age, and she has a pretty complicated family situation. This background has been a great advantage,¡± said Ma.

After Fly Me to Polaris, she appeared in a lot of popular movies including Para Para Sakura, Cat and Mouse and The Lion Roars. She also starred opposite renowned South Korean actor Choi Min-sik in the drama Failan.

Now Cheung is in Beijing working on Chen Kaige¡¯s new movie, The Promise, which has garnered wide media attention and is expected to be a hit when it comes out.

Cecilia Cheung will be the most glamorous figure on the night of April 4 when she goes to the 2004 Hong Kong Film Awards armed with three nominations ¡ª two in the best acteress category and one in the best original song category.
Today's Top News
Top Life News

Japan told to release Chinese unconditionally




Lunar satellite to be launched in 2007




Taiwan "election" protesters keep vigil




US vetoes UN measure on Yassin's death




China refutes US censure on human rights




UN sees problems, progress in China's path