Shen Xue's poetry in motion on the rink
(Toronto Star)
Updated: 2004-03-25 10:17

Shen Xue and Zhao Hongbo (R) from China perform during the pair's free skating competition at the World Figure Skating Championships in Dortmund, March 24, 2004. [Reuters]
The great-grandmother of Shen Xue had bound feet and could barely hobble across the yard.
It is mind-boggling to picture this, watching Shen's gloriously nimble feet as she strokes rapidly from one end of the rink to the other, the breeze generated by her speed lifting her sleek ponytail; as she scrapes her blade against the ice to gain lift for a throw triple Salchow that will hurtle her slim body in a 20-foot trajectory, dropping more than a foot with every rotation completed; as the ankle buckles then asserts itself, the knee dips, the arms are extended outwards, fingers splayed.
Shen Xue comes as close as has any human to flying. And, while the reigning world pairs champion with partner Zhao Hongbo, she's not even necessarily the most breathtaking of the airborne Chinese in Dortmund. China's third-ranked team, Zhang Dan and Zhang Hao, were the first to land a quadruple twist at the world junior championships four years ago, a daring element that explodes in the air.
Indeed, all Chinese pairs have practised quadruple throws. Shen and Zhao actually gave it a dramatic stab during the long program at the Salt Lake City Olympics in the hopes completion would propel them ahead of the Canadians and Russians. They came achingly close, Shen just sliding off the back edge of her skate on the landing, after the rotations had been well achieved.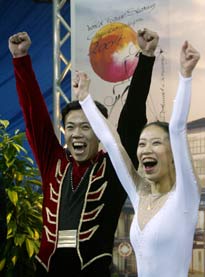 Shen Xue and Zhao Hongbo (L) from China celebrate their silver medal after the pair's free skating competition at the World Figure Skating Championships in Dortmund, March 24, 2004. [Reuters]

In preparation for taking this calculated risk, the couple had laboured for months back in their hometown of Harbin. It took 43 attempts in a row ¡ª on each occasion with Shen landing hard on the same bruised hip ¡ª before they completed a quad throw for the first time.

The Chinese take risks. They train harder than any other skaters in the world. And they have willed themselves into a pairs skating dominance that was unimaginable two decades ago. The proof: Back-to-back world titles for Shen and Zhao, seeking their third gold medal at these world championships.

And yet they stand only fourth going into tonight's final. Ahead of them are China's current national champions (achieved while Shen and Zhao were sidelined with injury), Pang Qing and Tong Jian, superlative athletes although Pang is scandalously thin and brittle looking. The (non-related) Zhangs are sixth but were probably the best of the Chinese bunch in Monday's short program.

Russians Tatiana Totmianina and Maxim Marinin are in first place, compatriots Maria Petrova and Alexei Tikhnov second. So closely clustered are the pairs, however, that any of the top four could cop gold by winning the long program.

Russia has always produced elite pairs skaters. But the Chinese have had minimal experience with it and assuredly no tradition from which to draw. They are self-taught, learning the sport in the infancy of China's skating federation days almost by correspondence course, certainly by video instruction.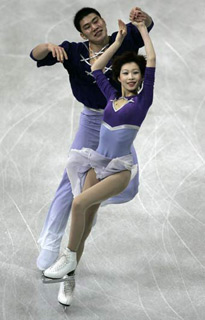 Zhang Dan (front) and Zhang Hao from China perform during the pair's free skating competition at the World Figure Skating Championships in Dortmund, March 24, 2004. [Reuters]

The cultural abyss that separates Shen Xue from her foot-bound great-grandmother has its echoes in more recent Chinese figure skating, and the extraordinary transformation it's undergone. There's a lesson here, I think, for Skate Canada authorities who have been so genteel and tentative with this country's prospects, coddling where they should push, endlessly holding out the promise of emerging female talent, most particularly, yet delivering pitifully little. By comparison, China made vows to itself and kept them.

All three Chinese teams are coached by Yao Bin, a one-man operation who carved the pairs system out of nothing. His face is visible in the kiss 'n' cry area where skaters wait for their marks, the stern visage of an exacting master.

Twenty-four years ago, in this very city, Yao was on the first team that ever represented China at a world championship. With his partner Luan Bo, Yao finished not just dead last in pairs but so far distant from the field that the German audience laughed. Nobody's laughing at the Chinese now.
Today's Top News
Top Sports News

Japan told not to harm Diaoyu isle activists




Taiwan vote dispute drags on




Border police nab thousands of stowaways




Officials banned from posts in enterprises




US visa application measures prompt debate




Women start life anew behind bars