US visa application measures prompt debate
(China Daily)
Updated: 2004-03-25 00:03
Xiao Wang,who wants to study in the United States for a doctoral degree, approached the Beijing-based US Embassy for interview on Monday hoping to get a visa.
He found that each applicant is required to conduct fingerprint scanning, so he placed his two index fingers on a piece of equipment just as others do, which added a few seconds to his application process.
From Monday onwards, the US Embassy and Consulate General in China started the fingerprinting scanning for most non-immigrant and immigrant visa applicants.
Any applicant who refuses to be fingerprinted will automatically be disqualified for an application.The move has evoked conflicting responses among Chinese.
An applicant surnamed Xu, who also received an interview at the US Embassy, said the quick scanning doesn't bother him at all.
But a large number of netizens at Xinhuanet.com said the measure constitutes discrimination towards Chinese and violates their privacy and human rights.
The Chinese Foreign Ministry also is showing great concern over the biometrics in US visas and has taken up the matter with the United States several times since January.
"It's a worldwide implementation,"a spokesman at the US Embassy said, noting the measure doesn't single out any particular country or mission.
This security enhancement is intended as an important link in the US overall plan to improve border security, and to reduce the use of stolen and counterfeit visas,the spokesman said.
But when questioned why citizens such as Canada and 27 other nations are not forced to undergo fingerprint scanning and are even exempted the visa fees, the official said those countries are on the US Visa Waver Programme which was decided by the US congress.
The Chinese Foreign Ministry said that contradicts the US claim that the programme is worldwide.
Earlier this month, the US Embassy set up a China-wide Visa Information Call Centre to provide visa-related information to applicants and to schedule non-immigrant interview appointments.
It also raised doubts on the 54 yuan (US$7) it is charging for every 12 minutes the callers stay on the line.
According to a report by a Shanghai-based newspaper, the fees -- which are considered steep -- largely exceed common hotline services.
Shao Jie, a former overseas student, said she can't work out why the embassy charges another sum of money after the applicants have paid 830 yuan (US$100) in application fees.
But some others, like Xun Yangjian, who plans to travel to the United States later this year, said it's worthwhile spending that money if, as the US Embassy promised, it can make an appointment in a speedy and organized fashion.
The embassy confirmed the call centre is operated by a Shanghai-based Chinese information company but would not reveal any other details.
FM: U.S. urged not to fingerprint Chinese
China expressed its strong dissatisfaction with the US move of collecting fingerprints of non-immigration visa applicants from China and warned of reciprocal measures if the United States does not abandon this discriminatory measure.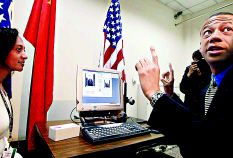 US embassy to China began to fingerprint non-immigration visa applicants from March 22. [sina]

The Ministry of Foreign Affairs said in a statement on March 23 the US move is a discrimination against the Chinese citizens, and infringes upon the dignity and personal privacy of the Chinese citizens.

Beginning from January 5 this year, the United States started to implement US-VISIT program in its 115 airports and 14 seaports, under the excuse of homeland security. Foreign visitors arriving with visas had to have their travel documents scanned, their fingerprints and photos taken and their identification checked against terrorist watch lists under the new program.

Children under 14, seniors over 79 and government officials as well as their spouses who hold diplomatic and business passport are not required to go through the fingerprinting and photographing procedures. But visitors from Canada and other 27 countries, enjoying the privilege of visa-free treatment, are not subjected to this program.

The US Embassy to China started to collect fingerprints of non-immigration visa applicants from March 22. This move immediately aroused strong indignation among the Chinese people

The Foreign Ministry said in its statement officials from the ministry, Chinese embassy and consulates to the United States have lodged serious representations to the US side, pointing out that the measure is a violation of human rights, and urged the US side to waive the Chinese citizens from its practice of fingerprinting visitors.

The US side claimed it is a global measure for the homeland security of the United States, but its practice of waiving citizens from 28 countries as Canada from fingerprinting requirement contradicts its explanations.

This is, in essence, a kind of discrimination that the Chinese side can't accept.

The ministry urged the US side to abandon this measure as soon as possible, and warned that China reserves the right to lodge further representations and to take reciprocal measures.
Today's Top News
Top China News

Japan told not to harm Diaoyu isle activists




Taiwan vote dispute drags on




Police campaign nets 444 snakeheads




Tian'anmen gets needed rehab work




US visa application measures prompt debate




Party forbids officials to hold firm posts