Japan told not to harm Diaoyu isle activists
(China Daily)
Updated: 2004-03-24 22:51
Foreign Ministry spokesman Kong Quan Wednesday demanded Japan not harm seven Chinese activists who landed on the Diaoyu Island and repeated China's proposal to solve the disputes through negotiations.
"We demand that Japan treat them (Chinese activists) in a cool-headed manner, and not take any actions that will harm their personal safety," said Kong.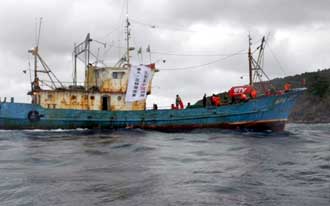 A Chinese-registered vessel, with activists aboard, approaches one of the Diaoyu Islands in the East China Sea on March 24, 2004. [Reuters]
He reiterated that the Diaoyu Island and its affiliated islands have been China's inherent territory since ancient times.
"The Chinese Government has all along proposed resolving the dispute through negotiations," said Kong.
Seven Chinese activists landed on the disputed Diaoyu Island Wednesday morning on a "scientific expedition."
By press time, the Japanese police had arrested all seven people, according to media reports. They are Feng Jinhua, Zhang Likun, Yin Dongming, Hu Xianfeng, Wang Xiqiang, Fang Weiqiang and Yin Hongmin.
A Chinese Foreign Ministry news release said Vice-Foreign Minister Zhang Yesui and an official in the Department of Asian Affairs held urgent meetings with the charge d'affaires of the Japanese Embassy in Beijing.
Located in the East China Sea between the southern Japanese island of Okinawa and China's Taiwan, the cluster of islands includes Diaoyu Island, Huangwei Yu, Chiwei Yu, Nanxiao Dao, Beixiao Dao Island and some reefs, covering an area of 6.3 square kilometres. They provide access to rich fishing grounds and potential oil deposits.
The seven Chinese set out on a fishing boat from a port in East China on Tuesday morning, and encountered Japanese Coast Guard vessels near the Diaoyu Island.
The seven landed on the island at 6:26 am Wednesday morning in rubber rafts, bringing with them a Chinese national flag measuring 1.5 metres in width. Their rafts were later towed away by the Japanese Coast Guard.
The activists, reportedly on a scientific expedition aiming for future tourism development, then scouted the topology, geography and water temperature on the island.
The reports said Japan's Vice-Foreign Minister Yukio Takeuchi Wednesday lodged a protest with China's ambassador to Japan, Wu Dawei, over the event.
Today's Top News
Top China News

State raises rice prices amid output drop




Taiwan police disperses protesters




China accepts US demand on tax talks




Contract ensures more oil delivery to China




Interpretation of Basic Law in HK's interest




East aims at balanced development