7 Chinese activists land on Diaoyu Islands
(Agencies)
Updated: 2004-03-24 17:40
Seven Chinese activists landed on the Diaoyu Islands early Wednesday morning despite interception from the Japan Coast Guard, a spokesman for the group said in Beijing.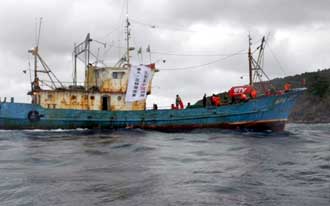 A Chinese-registered vessel, with activists aboard, approaches one of the Diaoyu Islands in the East China Sea on March 24, 2004. [Reuters]

''Our people have landed on the isle. They are doing some scientific and environmental studies there,'' said Tong Zeng, chairman of the China Federation for Defending the Diaoyu Islands.

''We will of course resist if Japan tries to clear our people from the island. This is a territory of China,'' Tong said over the phone from Beijing.

The seven activists are among a group of 16 people, including a woman, who sailed off in a 100-ton ship from a port in China's coastal Zhejiang Province early Tuesday.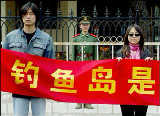 Chinese activists protest outside the Japanese embassy in Beijing on March 24, 2004. [AFP]

It was the fourth time Chinese activists set voyage for the islands in the East China Sea in the past nine months. But they failed to land on the islands in their last three attempts.

The uninhabited island is located in rich fishing waters between Taiwan Island and Japan's Okinawa islands.

Tong said Wednesday that the group was blocked by four Japanese vessels when their ship was close to the islands. Seven activists, however, succeeded in getting onshore with two small boats early in the morning, he said.

But the Japanese side had confiscated the two boats and is expected to take action against the activists on the island, Tong said.

In Beijing, about 10 to 15 protesters stood outside the Japanese Embassy, holding up the Chinese flag and red and white banners. One read: The Diaoyu Islands are China's Territory.

China demands Japan not harm the activists

China on Wednesday told Japan to treat its citizens who landed on the Diaoyu Islands carefully and not take any action that would jeopardize their safety.

According to Chinese Foreign Ministry spokesman Kong Quan, seven Chinese citizens landed on the islands after a sea journey early on Wednesday, and they were detained by the Japanese coastguard in the afternoon.

Kong said the Diaoyu Islands have been China's territory from time immemorial, and the Chinese government has all along proposed resolving the dispute through negotiations.

On Wednesday, Deputy Foreign Minster Zhang Yesui and the Asian affairs department of the foreign ministry summoned the charge d'affaires ad interim of Japan to China and lodged solemn representations.
Today's Top News
Top China News

US urged to do more for peace across Straits




FM: U.S. urged not to fingerprint Chinese




NASA: Salty sea covered part of Mars




Anti-China motion disrupts human rights talk




7 Chinese activists land on Diaoyu Islands




And the Beijing Olympic mascot is...