Judge permits testimony about fetus pain in abortion trial
(Agencies)
Updated: 2004-03-24 15:37
A pediatrician who says a fetus can feel pain during an abortion will be allowed to testify in a legal challenge to a new law banning a type of late-term abortion, a judge has ruled.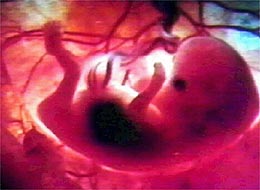 A fetus can feel pain during abortion at 20 weeks of gestation, Dr. Kanwaljeet S. Anand said. [file photo]

US District Judge Richard Casey ruled Friday that Dr. Kanwaljeet S. Anand can testify as a government witness at a trial scheduled for later this month.

The judge rejected arguments from the National Abortion Federation that the testimony would be irrelevant and unreliable.

The new law, passed by Congress last year, forbids a procedure anti-abortion activists call ``partial-birth abortion." It is generally performed in the second or third trimester.

The judge said the doctor's testimony will help him assess Congress' findings that the procedure is ``brutal and inhumane" and that ``the child will fully experience the pain associated with piercing his or her skull and sucking out his or her brain."

Anand has conducted research on pain in fetuses and newborns and concluded that a fetus can feel pain at 20 weeks of gestation.

The American Civil Liberties Union, which is representing the National Abortion Federation, argued that Anand's testimony is insufficient because he will say it is likely but not definite that a fetus experiences pain during late-term abortions.

But the judge said Anand's testimony has a sufficiently reliable foundation because it is based on extensive experience and research.

Simultaneous trials challenging the law are set to begin March 29 in New York; Lincoln, Nebraska; and San Francisco.
Today's Top News
Top Life News

US urged to do more for peace across Straits




NASA: Salty sea covered part of Mars




Anti-China motion disrupts human rights talk




FM: U.S. urged not to fingerprint Chinese




Japan nixes WWII labourers' pay




And the Beijing Olympic mascot is...