Serena returns to tennis after surgery
(Agenices)
Updated: 2004-03-24 15:33
Sidelined by knee surgery, Serena Williams spent most of the past eight months designing dresses and dabbling in acting.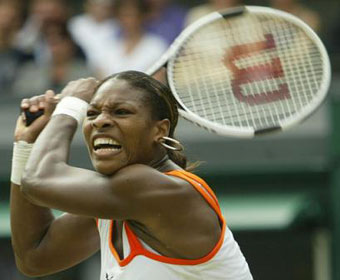 Defending champion Serena Williams plays a return to Belgium's Justine Henin-Hardenne, during their Women's Singles semi final match on the Centre Court at the All England Lawn Tennis Cahmpionships at Wimbledon, in this July 3, 2003 photo. [AP]

Now that she's ready to get back on a tennis court, it's as if she never left: Williams will be seeded No. 1 at the Nasdaq-100 Open, which begins Wednesday.

"I really, really am excited about getting back," said Williams, the two-time defending champion at Key Biscayne. "I've been in a lot of pain watching a lot of players play when I really want to be out there."

The tournament will be her first since she won her sixth Grand Slam title by beating older sister Venus at Wimbledon in July.

Despite the long layoff, Williams returns as the favorite ¡ª thanks to a series of withdrawals. The four top-ranked women are missing, including Justine Henin-Hardenne and Kim Clijsters.

Clearly, Williams is hardly the only star who has been hurt ¡ª or even the only Williams. Venus missed the final six months of 2003 with an abdominal injury, and a sore right knee has limited her to six matches this year.

"It's been really tough for her to get back," Serena said. "We've both been working very hard, and we both plan on making a lot of noise."

With the sisters seeded 1-2 this week, they can meet only in the final. Serena has beaten Venus six times in a row.

The 32 seeded players receive first-round byes, meaning they'll play their opening matches Friday or Saturday.

No. 1-ranked Henin-Hardenne decided to skip Key Biscayne even though it is regarded by many as the most prestigious tournament outside the majors. The Belgian has won three of the past four Grand Slam events and would have been the favorite here, but she'll instead take a two-week break after winning at Indian Wells on Sunday.

The decision disappointed tournament organizers and puzzled the Indian Wells men's champion, top-ranked Roger Federer.

"I'm surprised she doesn't play it, because to me it seems like there are enough days to prepare for Miami," Federer said. "I'm going to go there for sure, that's all I can say. I think Miami's one of the nicest events of the year."

Also missing will be No. 2 Clijsters, who tore a tendon in her left wrist at Indian Wells. No. 3 Amelie Mauresmo is out with a back injury, and No. 4 Lindsay Davenport decided to join Henin-Hardenne and take a break.

Men's favorites include No. 4-seeded Andre Agassi, bidding for his seventh Key Biscayne title and fourth in a row. He and No. 2 Andy Roddick are in the tougher half of the draw.

Federer has an easier draw and the most momentum, winning 27 of his past 28 matches to become entrenched at No. 1.

"I love it," he said. "I'm surprised how big the difference is from being No. 2, 3 or 4 in the world and being No. 1 in the world. It just feels so much better."

The only top 20 men's player absent is French Open champion Juan Carlos Ferrero, sidelined by chicken pox.

But the women's draw is the weakest in years. Among the injured are No. 9 Chanda Rubin (knee) and two-time champion Monica Seles (foot).

That makes the challenge of a comeback less daunting for Serena Williams, who slipped to sixth in the rankings during her layoff.

"When I first got off and took a break, it was like a relief almost," she said. "I was like, 'Wow, I never had this much time off.' But after awhile that gets old."

She had been No. 1 for a year when sidelined by an injury to her left knee.

The initial prognosis was that she might miss as little as six weeks. Months passed instead, but Williams said she remains committed to her career. For motivation, there's a new sponsorship contract with Nike that could be worth close to $40 million over five years ¡ª if she keeps playing.

"I've been feeling the hunger for quite some time," she said. "I haven't done enough in my career that I feel that I need to be jumping up and down."

She plans a full schedule, including Amelia Island, Hilton Head and Fed Cup after Key Biscayne. But rust is likely to be an issue for a while.

"It would be hard to say she's going to come back at her best," Davenport said. "It will probably take her three or four tournaments or three or four months to really get back into the groove of playing matches and being back on the tour."
Today's Top News
Top Sports News

US urged to do more for peace across Straits




NASA: Salty sea covered part of Mars




Anti-China motion disrupts human rights talk




FM: U.S. urged not to fingerprint Chinese




Japan nixes WWII labourers' pay




And the Beijing Olympic mascot is...