What's a sing-along video worth?
(China Daily)
Updated: 2004-03-24 10:36
Since March 1, operators of some 12,000 entertainment outlets in over 50 cities across China have received an unusual letter issued by two law firms in Beijing.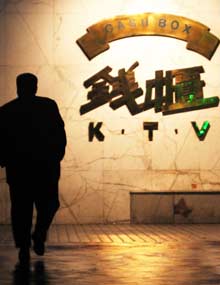 An outlet of Cashbox in Shanghai. Cashbox is the first karaoke operator in the city to be brought to court on MTV copyright infringement charges. The upcoming ruling might decide the fate of the KTV industry nationwide. [newsphoto/file]

On behalf of more than 50 music clients at home and abroad, including EMI, Warner, Universal, Sony and Rock Records, the letter demands the outlets - mostly karaoke bars - pay compensation ranging from 7,000 yuan (US$843) to 120,000 yuan (US$14,000) each for "using music TV, music video and the Chinese edition of karaoke music for commercial purpose without the authorization of the groups that made the music."

Such unauthorized use, states the letter, "infringes upon the screening rights ."

In line with China's laws and regulations, the letter urges the recipients to "adopt immediate measures to stop the infringement, and compensate our clients for their economic damage" within three days of its receipt. The letter also warns of possible legal action based on the evidence acquired if nothing takes place within seven days of receipt.

Blowing whistle

Although the music industry actually blew the whistle last year when Warner Music brought New Chinatown Entertainment Corporation in Beijing to court for unauthorized use of three of its MTV works for profit-making, the letter still caught many in the sector off guard.

Some karaoke operators don't understand why they are charged again after they have paid fees to purchase the MTV products.

Melody KTV from Taiwan is the first in China to pay the audio fees to the China Music Copyright Society, the country's only officially recognized organization for music copyright administration. According to Chen Xiaoming, deputy manager, each of the three Melody outlets in Beijing hands over 70,000 yuan (US$8,433) annually.

But the compensation the music industry is demanding is for visual rights on the MTV works. In the case of Warner vs Chinatown, the defendant insisted the MTV works were video products instead of film-like works and therefore not protected by the country's Copyright Law.

The law, adopted in 1990 and amended in 2001, has no clear clause on MTV works, but provides that copyrights on music, film and TV videos are to be protected.

Based on that provision Guo Chunfei, attorney for Warner Music, argued that "MTV works are produced in ways similar to films, with the intelligent labour of the film producer. Therefore the copyright is in place and fees should be levied when they are used."

Copyright

The Beijing No 2 Intermediate People's Court ruled last December that Chinatown had infringed upon the plaintiff's copyright and awarded 38,000 yuan (US$4,578) in compensation, thus setting a precedent. Warner had demanded 300,000 yuan (US$36,000) for economic damages and 50,000 yuan (US$6,000) for litigation expenses.

Chinatown has appealed to the Beijing Higher People's Court, believing that even if the three pieces are the creative works of Warner Music, their expenses had long been paid when it purchased the entire music collection years ago for some 1.2 million yuan (US$140,000), including machines and equipment.

"If payments are collected in line with what the first court rules, which means about 10,000 yuan (US$1,205) for every music work, over 3,000 karaoke outlets in Beijing would face a serious crisis," says Chinatown lawyer Li Weilin. The company's annual profits is pegged at around 6 million yuan (US$723,000).

The Beijing office for the International Federation of the Phonographic Industry (IFPI), which initiated the nationwide challenge to the entertainment outlets along with the China Audio-Visual Producers' Association, thinks otherwise.

"What we are asking for is compensation to settle old accounts once and for all," said an IFPI official who declined to give his name. "And the 7,000 yuan to 120,000 yuan compensation, depending on the scale of the entertainment venue and the local economic situation, is reasonable. For high-end karaoke outlets like Melody or Qiangui Party World, which have more than 100 separate KTV rooms, 120,000 yuan means 100 yuan per room per month, which is very fair."

He added IFPI wants to test the waters in China following the successful case against Chinatown last year. "Three years have passed since the revised Copyright Law was adopted, and no detailed regulations have been worked out. Through the nationwide move, we want to push for the issuance of implementation rules from the government administration."

The music firms' recent move "is actually a claim for compensation from music companies for their economic damage," says Guo Chunfei of Beijing's Tenwell Law Firm, one of the two designated firms issuing the letter.

Lawyer's letter

"The purpose of the lawyer's letter is for negotiations and signing a reconciliation agreement before litigation materializes." She adds that once karaoke operators pay the compensation, they are allowed to "screen on condition" the works from the music companies. Otherwise, "we have to go to the court."

People in the sector expect a settlement acceptable to both sides.

"KTV and the music industry are complementary, like fish and water, counting on each other for upcoming consumers. If everything goes well this time, it's a good beginning to raise awareness for copyrights. However, if mediation efforts fail and litigation starts, it will be harmful to both,"says a Mr Zhou with Beijing Qiangui Party World.

Unlike other tort cases in China, which mostly incur different responses from legal circles, this time the experts are largely unanimous in support of the music industry's claim for compensation.

"According to the revised Copyright Law, all these works are protected," says Professor Lei Mingguang from the Department of Law at Central University for Nationalities. "That should end the karaoke bars' free use of visual images of MTV or MV products." He and Qiu Hongcheng of the Provincial Copyright Bureau of Heilongjiang in Northeast China think the government should have a concrete stipulation on the payment.

But karaoke operators still have misgivings. Even though he considers it reasonable for music companies to ask for their rights and interests, Ma Zhongchao, head of the marketing section for Melody KTV, wonders how they should operate as "there hasn't been a legitimate agency like the China Music Copyright Society to take care of this." Besides, he says, "there is no payment standard to this effect in China. If one piece of music is charged 10,000 yuan like what Chinatown is facing in the litigation, it would be a devastating blow to the sector, as big karaoke bars normally have 10,000 pieces of music in stock."

Criteria challenged

Liu Bin, artistic supervisor for a karaoke bar in Harbin, capital of Heilongjiang Province, also challenges the criteria the music companies have set for the compensation claim. "If fees are levied according to the floor space of our business operation, what about the time when there are no patrons?" he asks.

Sun Jianhong, chief counsellor for China Audio-Visual Producers' Association, reveals that "there will be an agency to administer audio-visual copyrights in China, and relevant regulations will be worked out within this year." But before this, he says, "music companies are authorized to safeguard their rights within the current legal framework, with the help of lawyers."

It's reported that China Audio-Visual Producers' Association has been mandated to set up a collective administration agency for audio-visual copyrights. If everything works out smoothly, karaoke outlets in China will be able to pay set fees for MTV copyrights starting from next year.

According to Melody's deputy manager Chen Xiaoming, his company will sign an agreement today with the International Federation of the Phonographic Industry, which shall make it the first operator to pay for music TV screening in the country.
Today's Top News
Top China News

Anti-China motion disrupts human rights dialogue




Powell: US observes one-China policy




NASA: Salty sea covered part of Mars




Japan nixes WWII labourers' pay




And the Beijing Olympic mascot is...




US sets up copter base in Afghan mountains