Al-Qaeda suspects may have fled in tunnel
(Agencies)
Updated: 2004-03-23 10:33
Pakistani forces discovered a mile-long tunnel leading from a besieged mud fortress to a dry stream bed, and said Monday the secret passage may have allowed top al-Qaeda suspects to escape toward the Afghan frontier.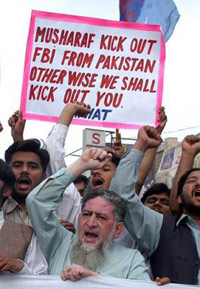 Protesters chant anti-government slogans to condemn ongoing anti-al-Qaida operation in Pakistan's tribal area, Monday, March 22, 2004 in Multan, Pakistan. [AP Photo]

The revelation came as Pakistani authorities began DNA tests to identify foreign terrorists killed in the weeklong offensive in South Waziristan, where thousands of troops have been battling hundreds of die-hard militants.

Forces first found a tunnel connecting the heavily fortified compounds of two tribal elders ¡ª Nek Mohammed and Sharif Khan ¡ª who have been leading supporters of some 500-600 foreign terrorists, said Brig. Mahmood Shah, chief of security for the tribal areas.

From that passage, they found the mile-long tunnel running under the town of Kaloosha, about nine miles from the Afghan border, to a dry stream bed on the edge of the craggy, treacherous mountains that straddle the frontier.

"There is a possibility that the tunnel may have been used at the start of the operation," Shah told journalists in Peshawar, the provincial capital.

Three senior officials have said that they believe al-Qaeda No. 2 Ayman al-Zawahri may have been at the site, though the government has repeatedly said it does not know who is inside. President Gen. Pervez Musharraf said Thursday that a "high-value" target was likely involved.

The tunnel, which undoubtedly took months to construct, was another indication an important fugitive was in the area at some point. South Waziristan is considered the most likely hideout for al-Zawahri and his boss, terror chief Osama bin Laden.

The Pakistani military has clamped a 20-square-mile cordon around Kaloosha and several other tribal towns in South Waziristan, and say they are confident nobody has escaped the area.

But the cordon did not exist at the disastrous start of the operation Mar. 16, when Pakistani forces who thought they were going to arrest local tribesmen were surprised by a ferocious barrage from within the compound walls. Fifteen soldiers and 26 militants died in the initial assault; the military sent in thousands of reinforcements over the following two days.

Pakistan's military said it was conducting DNA tests to identify six suspected foreign terrorists killed in the fighting, but would not elaborate on whether they included any important terror figure.

Five bodies of what appeared to be 25- to 30-year-old men were displayed to journalists late Sunday at a military mortuary in Rawalpindi, a city near the capital Islamabad. Al-Zawahri, an Egyptian surgeon, is 52 years old.

The bodies were laid out on stretchers and in open coffins in bloodied clothes.

Military officials said they were all foreigners, but it was impossible for journalists to determine their nationalities. They said the sixth body had decomposed and that it would have been inhumane to show it.

"At this moment, whatever information we have about the tests we would not like to give out until we are 200 percent sure who they are," army spokesman Maj. Gen. Shaukat Sultan told a press conference.

"For us, every foreigner who is caught or killed is important, because we do not know who they are," Sultan said earlier. "We took the decision to do DNA tests to confirm the identities of these people."

"I cannot say if any among them is al-Zawahri," he said.

The developments came as Gen. John Abizaid, leader of U.S. Central Command, made a visit to Pakistan. Sultan said Abizaid met with a top Pakistani army official, and insisted the trip had nothing to do with the offensive in Waziristan.

Abizaid's last known visit to Pakistan came on Jan. 16, when he met with President Gen. Pervez Musharraf. That trip was just a week after the last major operation by Pakistan's military in South Waziristan.

In that operation, Ahmad Said al-Kadr, an Egyptian-born Canadian citizen suspected of being a top al-Qaeda financier, was killed along with seven other suspects.

In Wana on Monday, an 18-member tribal peace delegation crossed through the military cordon for talks with elders of the Yargul Khel tribe, believed to be fighting alongside the al-Qaeda militants.

The delegation carried a white flag and brought with it three government demands for the fighters: free 12 soldiers and two government officials taken captive last week; hand over tribesmen involved in the fighting; and kick out any foreigners or show the military where to track them down.

Shah said that "in light of the past experience we are not very hopeful" the delegation would succeed.

Some 5,000-6,000 Pakistani forces have been fighting 400-500 foreign militants and tribesmen in what has become Pakistan's largest military operation in its tribal regions since the government threw its support behind the U.S.-led war on terrorism in late 2001.

Shah said 123 suspects have been arrested in the week-old offensive. He said the homes of 13 tribesmen accused of harboring the terrorists were leveled on Sunday and Monday. Security officials say their prisoners included Pakistanis, Arabs, Chechens, and Uzbeks.
Today's Top News
Top World News

Credit consumption innovates way of life in Shanghai




Taiwan case could spur court intervention





May Day Europe trip still out of reach




Nation pins hopes on oil project with Russia




Government puts lid on overheating industries




Yassin buried; Hamas pledges retaliation