General strike declared after Yassin assassinated
(Agencies)
Updated: 2004-03-22 14:33
Israeli forces killed the founder and spiritual leader of Hamas, Sheik Ahmed Yassin, in a missile strike outside a Gaza City mosque early Monday, an attack that is expected to escalate Israeli-Palestinian violence dramatically.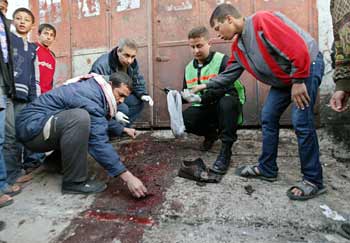 Palestinians inspect the spot where Hamas' spiritual leader Sheikh Ahmed Yassin was killed in Gaza City March 22, 2004. [Reuters]
A three-day general strike was declared in both the West Bank and the Gaza Strip from mosque loudspeakers on Monday to protest the Israeli assassination.
Yassin was the most influential Palestinian militant leader to be killed by Israel, and Hamas threatened bloody revenge. In a spontaneous outpouring of rage and grief, tens of thousands of Palestinians, led by hundreds of gunmen, poured into the streets of Gaza City after hearing of Yassin's death.
Flames and black smoke were coming out from different parts of Gaza as a result of burning tires in the main streets of the city.
Yassin was the most influential Palestinian militant leader to be killed by Israel, and Hamas threatened bloody revenge. In a spontaneous outpouring of rage and grief, tens of thousands of Palestinians, led by hundreds of gunmen, poured into the streets of Gaza City after hearing of Yassin's death.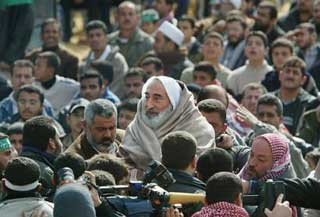 The spiritual leader of the Palestinian Islamic group Hamas Sheikh Ahmed Yassin, center, is helped by his aides and bodyguards as he takes part in a mass rally in Jabaliya refugee camp, in the northern Gaza Strip Feb. 14, 2003. [AP]


At Shifa Hospital, where Yassin's mangled body was taken, masked gunmen shot in the air. Some aired recordings of Yassin, saying, "We chose this road, and will end with martyrdom or victory."

Cars drove through the streets blaring calls for revenge over loudspeakers. Mosques read passages from the Quran and two Gaza churches rang their church bells.

Different Palestinian armed groups have vowed revenge for Israel's assassination of Yassin, warning attacks against Israel " would be escalated."

"Words cannot describe the emotion of anger and hate inside our hearts," said Hamas official Ismail Haniyeh, a close associate of Yassin.

The wheelchair-bound Yassin was hit as he left a mosque near his house at daybreak Monday, witnesses said. Israeli helicopters fired three missiles, and Yassin and three other people were killed instantly.

One Palestinian hospital worker told Israel Radio that Yassin took a direct hit, and that "nothing was left but the head." Only a charred metal seat was left of Yassin's wheelchair, with one of the wheels attached.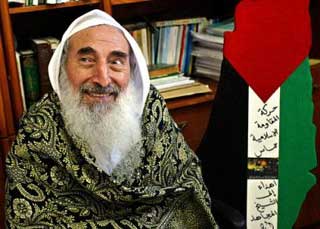 Palestinian Hamas spiritual leader Sheikh Ahmed Yassin laughs at his home in Gaza City, in this March 9, 2004, file photo. [AP]
Ambulances and fire trucks raced to the scene, sirens wailing, and rescue workers were gathering up parts of the shattered bodies.
Announcing Yassin's death over mosque loudspeakers, the Hamas leadership said, "Sharon has opened the gates of hell. and nothing will stop us from cutting off his head," referring to the Israeli prime minister.
Outside the morgue at Shifa Hospital, Haniyeh, a close associated of Yassin, had tears in his eyes as he confirmed Yassin's death and pledged revenge.
"This is the moment Sheik Yassin dreamed about," Haniyeh said. "Sheik Yassin lived and died and offered his life to Palestine. Sheik Yassin was a hero and a fighter and the leader of a nation, and (he) is in heaven now."
The Al Aqsa Martyrs' Brigades, an armed group with ties to Yasser Arafat's Fatah movement, also said it would retaliate. "War, war, war, on the sons of Zion," Al Aqsa said in a statement. "An eye for an eye, and the retaliation will be in the coming hours, God willing."
In a first response, Palestinian militants fired 10 home-made rockets toward an Israeli settlement in Gaza. There were no immediate reports of injuries.
Israel clamped a full closure on the West Bank and Gaza Strip, barring all Palestinians from entering Israel.
Israel had previously tried to kill Yassin in September when a warplane dropped a bomb on a building where he and other Hamas leaders were meeting, but Yassin escaped with just a small wound to his hand. One Israeli official recently said Yassin, a Hamas founder, was "marked for death."

Hamas supporters gather outside the morgue where the body of Hamas leader Sheikh Ahmed Yassin lies in Shifa hospital in Gaza City March 22,2004. [Reuters]

The army and Prime Minister Ariel Sharon's office declined to comment. But Deputy Defense Minister Zeev Boim confirmed the attack on Israel Radio.

"I said for a long time that Yassin is a target for killing. He was not immune," Boim said. "We know that terror is a continuous war. It requires large and determined forces, and we will continue it."

Palestinian Cabinet minister Saeb Erekat condemned the killing.

"Assassinations, incursions, walls, will not produce peace and security, on the contrary, it will just add fuel to the fire," he said.

Witnesses said the Israeli helicopter strike instantly killed Yassin and two bodyguards. Hospital officials said four people were killed and 17 wounded, two critically.

Dr. Moawia Hassnein, chief of emergency services at the Palestinian Ministry of Health, identified the dead as Yassin; bodyguards Mouman Yazouri, 28, and Ameer Abdel Alall, 24; and Rushdi Aloul, a 58-year-old bystander. One of Yassin's sons, 26-year-old Abdel al-Ghrani Yassin, who also worked as a bodyguard, was moderately wounded.

Yussef Haddad, 35, a taxi driver, said he saw the missiles hit and kill Yassin and the bodyguards. "Their bodies were shattered," he said.

Yassin was by far the most senior Palestinian militant killed in more than three years of Israeli-Palestinian fighting.

Yassin, a quadriplegic, founded Hamas in 1987. He was held in Israeli prisons for several years before being released in 1994.

Yassin lived in a modest house in the rundown Sabra neighborhood in Gaza City. Though he was limited in his movements, and Israel blamed him for inspiring Hamas bombers and attackers who killed hundreds of Israelis, Israeli governments had until now refrained from targeting him, fearing a firestorm of revenge attacks.

Today's Top News
Top World News

General strike declared after Yassin assassinated




Beijing watches Taiwan developments closely




State tightens farmland protection




Doctor starts 49-day fast to test TCM regimen




Fighting follows Afghan minister's killing




China values military ties with neighbors