Hamas founder Yassin killed in Israeli air strike
(Agencies)
Updated: 2004-03-22 11:52
Sheik Ahmed Yassin, the founder and leader of the Hamas militant group that targeted Israelis in suicide bombings, was killed by missiles fired from Israeli helicopters as he left a mosque at daybreak Monday, witnesses said.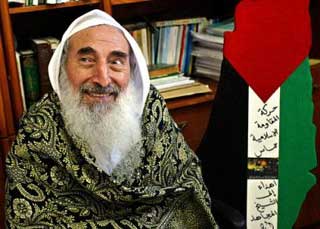 Palestinian Hamas spiritual leader Sheikh Ahmed Yassin laughs at his home in Gaza City, in this March 9, 2004, file photo. [AP]
Hamas confirmed the death in an announcement broadcast over mosque loudspeakers and vowed revenge against Israeli Prime Minister Ariel Sharon.
Witnesses said Israeli helicopters fired three missiles at the wheelchair-bound Yassin and two bodyguards as they left the mosque, killing them instantly.
A total of four people were killed and 12 were wounded in the attack, witnesses said.
Israeli Prime Minister Ariel Sharon personally supervised the attack on Hamas Shiekh Ahmed Yassin, an Israeli radio reported. Sharon had given the nod to Yassin's elimination and supervised the operation, Israel Radio reported.
Meanwhile, Israeli Deputy Defence Minister Zeev Boim said that Yassin deserved to die, warning that more attacks would come. "Sheikh Yassin deserved to die for all the terrorist attacks committed by Hamas," Boim told the radio.
The Israeli minister hinted that more attacks on Palestinian militant leaders were possible, saying that "no terrorist leader will be immune."
Yussef Haddad, 35, a taxi driver, said he saw the missiles hit Yassin and the bodyguards.
"Their bodies were shattered," he said.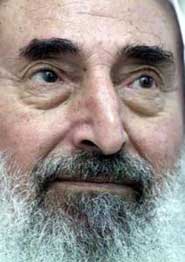 Sheikh Ahmed Yassin, founder of the Islamic militant group Hamas, speaks to Reuters inside his house in Gaza in this September 19, 2001 file photo. [Reuters]

Yassin was by far the most senior Palestinian militant killed in more than three years of Israeli-Palestinian fighting. Since September 2000, 474 people ¡ª the majority of them Israelis ¡ª have been killed in 112 Palestinian suicide bombings.

Sharon's government has gone after militant leaders using Israeli helicopter gunships in a controversial policy that has resulted in a number of civilian casualties in addition to the deaths of senior figures in Hamas and other groups.

Yassin was viewed as an inspirational figure by his followers in the Gaza Strip and West Bank. His death could spur violent protests not only in the Palestinian areas but in the wider Arab and Islamic world, where he was well-regarded as a symbol of the Palestinian battle for independence.

Thousands of angry Palestinians gathered minutes after the attack, calling for revenge against Israel.

In announcing Yassin's death, Hamas said, "(Israeli Prime Minister Ariel) Sharon has opened the gates of hell and nothing will stop us from cutting off his head."

Ambulances and fire trucks raced to the scene with sirens wailing, and rescue workers gathered up the shattered bodies.

Outside the morgue at Shifa Hospital in Gaza City, Hamas official Ismail Haniyeh, a close associate of Yassin, had tears in his eyes as he confirmed Yassin's death and pledged revenge.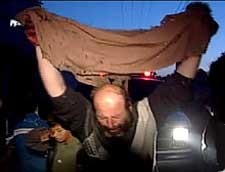 A man raises a sheet and bows his head at the scene of the attack. [Reuters]

"This is the moment Sheik Yassin dreamed about," Haniyeh said. "Sheik Yassin lived and died and offered his life to Palestine. Sheik Yassin was a hero and a fighter and the leader of a nation, and (he) is in heaven now."

Yassin founded Hamas at the start of the first Palestinian intefadeh, or uprising, in 1987. It is an offshoot of the Islamic fundamentalist Muslim Brotherhood, which is based in Egypt.

The Bush administration, as well as Israel, lists Hamas as a terrorist group.

Yassin was held in Israeli prisons for several years before being released in 1994.

Yassin lived in a modest house in the rundown Sabra neighborhood in Gaza City. Israel, which blamed him for inspiring Hamas bombers and attackers who killed hundreds of Israelis, tried unsuccessfully to kill him in a September missile strike that injured 16 people.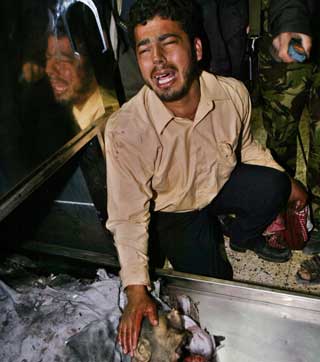 A Hamas supporter cries next to the remains of Hamas leader Sheikh Ahmed Yassin in Shifa hospital in Gaza City March 22,2004. [Reuters]

Past Israeli governments were reluctant to target Yassin, fearing a firestorm of revenge attacks.

HAMAS VOWS REVENGES

Hamas vowed revenge against Israeli Prime Minister Ariel Sharon. The Al Aqsa Martyrs' Brigades, a militant group allied with Yasser Arafat's Fatah movement, also promised swift retaliation.

Hamas militants vowed to "bring death to every house" in Israel after helicopter gunships killed the Islamic group's wheel-chair bound spiritual leader Sheikh Ahmed Yassin as he left a mosque before dawn on Monday. "Sheikh Ahmed Yassin rest in peace. They will never enjoy rest. We will send death to every house, every city, every street in Israel," Hamas militants shouted through loudspeakers in the streets of Gaza City.

Al Aqsa, a secular group responsible for dozens of attacks on Israelis, said in a statement faxed to The Associated Press, "An eye for an eye, and the retaliation will be in the coming hours, God willing."

Palestinian Prime Minister Ahmed Qureia accused the Israelis of trying to escalate violence with the Palestinians.

"This is one of the biggest crimes that the Israeli government has committed," Qureia said. "Sheik Ahmed Yassin is one of the most important leaders in the Palestinian factions and Israel does know well what they had committed this morning."

"This is a crazy and very dangerous act. It opens the door wide to chaos. Yassin is known for his moderation and he was controlling Hamas and therefore this is a dangerous, cowardly act," said Prime Minister Ahmed Qurie.

Tens of thousands of Gaza residents, many of them in tears, poured into the streets after Hamas announced the death of the quadriplegic Yassin over mosque loudspeakers. Masked fighters at Shifa Hospital in Gaza City, where Yassin's body was taken, shot into the air in rage. Angry mourners burned tires, sending black smoke over Gaza City.

The Israeli army imposed a full closure on the West Bank and Gaza Strip after Yassin's killing, dividing Gaza into three areas, preventing movement between them.






Today's Top News
Top World News

General strike declared after Yassin assassinated




Beijing watches Taiwan developments closely




State tightens farmland protection




Doctor starts 49-day fast to test TCM regimen




Fighting follows Afghan minister's killing




China values military ties with neighbors