100 die in violence as Afghan minister assassinated
(Agencies)
Updated: 2004-03-22 09:04
An Afghan cabinet minister was killed in the western city of Herat on Sunday, provoking ferocious tank and gun battles in which the city's military commander said more than 100 people died.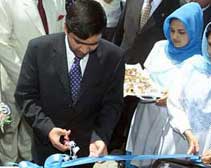 Mirwais Sadiq participates in a ceremony in Kabul, Afghanistan, in August 2002. [AP]

There were conflicting accounts of the killing of Civil Aviation Minister Mirwais Sadiq, son of powerful Herat provincial governor Ismail Khan. Khan's spokesman said he was ambushed but officials from both sides said he was killed trying to enter the house of a local government commander.

The fighting looked to be the worst between pro-government factions since President Hamid Karzai was installed after U.S.-led forces ousted the Taliban in 2001, and comes as he struggles against resurgent Islamic militancy.

Reports from both factions suggested an intense struggle for control of Herat was underway between Khan's forces and those of the central government in several areas of the city about 100 km (60 miles) east of the Iranian border.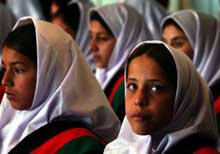 Mursal, 15, right, listens to the speech of the Afghan President Karzai, during a ceremony for the opening of school across the country this year, Sunday March 21, 2004 in Kabul, Afghanistan. [AP]

Residents reported heavy fighting late into the night.

"The fighting is still going on, they are using tanks and artillery," said an Afghan aid worker, who did not want to be identified. "I'm taking cover in the basement with my family. The electricity's just gone off. It's very frightening."

Khan's spokesman Ghulam Mohammad Masoan blamed said Sadiq died after a rocket-propelled grenade hit his car in the city center and blamed forces of the city's military commander, Zahir Nayebzada, who was recently appointed by Karzai.

He said it was the result of "a personal rivalry."

But Nayebzada told Reuters he had acted in self-defense after Khan tried to take control of his division and Sadiq tried to enter his house.

"He broke into my house and started the fighting there. I did not kill Sadiq in an ambush; he was killed in a clash afterwards. More than 100 people have been killed on both sides."

As he spoke by telephone, automatic gunfire could be heard in the background.

Another Khan loyalist, who did not want to be identified, said Sadiq was killed when he went to investigate an incorrect rumor that his father had been ambushed.

"He went to the house of the commander and came under fire. I was in the car behind him and when I arrived I saw six bodies including the minister's. I was hit in the arm," he said.

ISLAMIC HARD-LINER

Ismail Khan, an Islamic hard-liner, has been at odds with Karzai's U.S.-backed government for failing to hand over tens of millions of dollars of customs revenues from Herat, which controls the bulk of Afghanistan's trade.

A veteran of the struggle against Soviet rule in the 1980s, Khan professes loyalty to Karzai but is often accused of running a personal fiefdom in the west.

Karzai chaired an emergency National Security Council meeting and a presidential spokesman said government troops would be sent to restore order.

A U.S. embassy statement said the violence appeared to have begun as a traffic incident and then escalated. It urged all involved "to remain calm and to abide by the rule of law and avoid further bloodshed."

Around 100 U.S. soldiers and State Department personnel are deployed in Herat as one of the U.S. military's Provincial Reconstruction Teams (PRT).

"They are monitoring the situation," said U.S. army spokesman Lieutenant-Colonel Bryan Hilferty. "They are not intervening."

The embassy statement said German diplomatic personnel in Herat had been evacuated to the PRT site along with the visiting Italian ambassador.

It said no U.S. personnel had been hurt and a United Nations spokesman said its 48 staff in the city were safe. But Masoan said there had been some Afghan civilian deaths.

The United States heads a 13,500-strong foreign force hunting Taliban and al Qaeda guerrillas.

Sadiq was the third member of the cabinet to be killed since Karzai's government came to power in place of the Taliban.

In February 2002, Sadiq's predecessor Abdul Rahman was assassinated at Kabul airport. Vice President and Public Works Minister Haji Abdul Qadir was shot dead that July.
Today's Top News
Top World News

Office: Beijing watches Taiwan developments closely




State tightens farmland protection




Doctor starts 49-day fast to test TCM regimen




Fighting follows Afghan minister's killing




China values military ties with neighbors




Dad asks: 'Who's my kid's papa?'