China on show in song and story
(Shanghai Star)
Updated: 2004-03-20 11:20
A varied and interesting journey around China is awaiting tourists in the latter half of 2004.
July: For visitors who are interested in acquiring a better understanding of the unconstrained and straightforward character of China's minority nationalities, the Mongolian Naadam Festival, held in July when the days are bright and clear, can be a particularly rewarding occasion.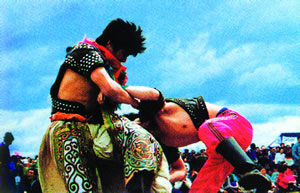 Naadam is a sports festival featuring wrestling, horse riding and archery competitions. When the sun goes down, visitors can join with the Mongolians who light their torches and drink and sing.
August: After waving farewell to the hospitable Mongolians, the annual Qingdao International Beer Festival, which opens in August in East China's Shandong Province, offers a further enlightening experience. Not only can visitors drink to their heart's content, they can also enjoy cultural, folk art and even technological exchanges with people from different places.
September: This is a month for travelling. A large-scale travel festival will be hosted at Changbai Mountains, in order to allow visitors to appreciate the beauty of the local maple leaves. By that time, it will already be autumn in China's northeastern regions.
Also in September, the beautiful coastal city of Dalian will hold an International Costume Festival. Visitors who are interested in clothing should make sure they catch this wonderful fashion exhibition.
In Tianjin there will be a festival focusing on folk customs, where visitors will be able to sample genuine traditional snacks as well as watching a variety of folk performances and displays.
October: With the annual National Day holiday approaching and people becoming eager to distance themselves from the clamour of urban life, why not travel to Qingdao to participate in its sand sculpture festival? This will be a good chance for visitors to display their creativity, but more importantly, to express their love for the ocean, whose situation is deteriorating due to the rapidly increasing population and diminishing natural resources.
But it is not only northern China which is putting on a show next year, southern China is too.
November: For a long time, the Zhuang minority has had the tradition of singing folk songs at their most important events, which is their way of interacting with others and expressing feelings. The Nanning International Folk-song Festival held in November in the capital city of the Guangxi Zhuang Autonomous Region will be an ideal place for folk song lovers to make a musical pilgrimage.
Visitors could also travel to Zhangzhou, the city of flowers and fruit, situated in Eastern China's Fujian Province, where they can nourish their curiosity at the famous Flower and Plant Exhibition.
December: In December when China's northern cities are already in the grip of cold, wintry days, it is still warm and sunny in South China's Guangdong Province.
As an appealing cultural and scenic city, the average temperature of Zhaoqing in the middle of Guangdong Province is 22.10 degrees centigrade. There is no wonder that Zhaoqing is abundant in fruit and natural resources.
With the flavour of fragrant oranges still in their mouths, visitors can make the half-year journey complete ending by climbing up to the Qixingyan (Seven Stars Cave), located in the northern outskirts of Zhaoqing. This site is acclaimed as the most marvellous spectacle to be found south of the Five Ridges.
Today's Top News
Top Life News

China puzzled over US filing tax complaint at WTO




Chen, Annette Lu slightly wounded in shooting




Specific reform objectives set for banks




Bush urges allies to stick with united mission




Marriage bells toll in cyber churches




Chinese, French women hold dialogue