Marriage bells toll in cyber churches
By Raymound Zhou (China Daily)
Updated: 2004-03-19 23:46
An online game of role-playing is giving a taste of conjugal bliss to hundreds of thousands, but a headache to experts who see it as chipping away at the foundation of the sacred state of matrimony.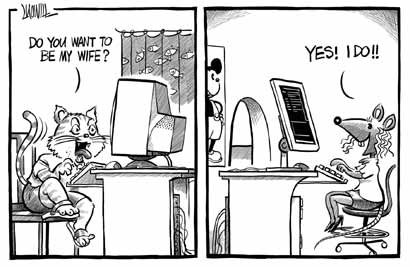 Cartoon by China Daily
When Xiao Sun mentioned on the phone that he had been married three times, his dad, who happened to overhear the conversation, almost had a heart attack.
Not only had the elder Sun never heard of the marriages, he had not caught a glimpse of any of his three daughters-in-law. As a matter of fact, his son did not know what his wives looked like either.
Xiao Sun is only a 12-year-old school student and all his marriages happened online -- virtual simulations.
However, people like his father are not amused and are calling for action or scrambling for elucidation.
Online marriage, or wanghun in Chinese, is a new phenomenon. It is an offshoot of the bourgeoning online community, where activities usually centre around the same hobbies. People who love classic literature have their own forums, and online games are the biggest profit makers for web companies in China. And now, as a logical extension of online dating, wedding bells are ringing in cyber chapels.
News Weekly, a Beijing-based weekly publication, puts the estimated number of the online married at 100,000, which is a small fraction of the 80 million netizens in China, let alone the number of really married population. But those enjoying virtual marital status are mushrooming, given the signs of increasing popularity of websites that provide the service.
Just having fun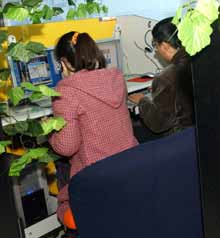 A young couple enjoy themselves in the cyberworld at an Internet cafe in Zhengzhou, capital of Central China's Henan Province. As a growing number of people are tying the knot in virtual marriage, experts warn that real marriage may be hurt by such a controversial online game. [newsphoto/file]

For a while, the term wanghun had its ambiguities. It could refer to wedding ceremonies that take place online, but the marriage is real and involves physical contact. This is in the spirit of wanglian, or online love or online dating, in that people use the Internet more or less like the telephone, as a convenience to compensate for physical absence. But nowadays, wanghun predominantly alludes to virtual marriage of two people who do not meet each other physically during the whole duration of the union.

There are sporadic reports of online marriage leading to -- no, not real matrimony, but to real breakup of the existing, real marriage. A couple in Zhuhai were about to walk down the aisle when the woman learned of her fiance's online marriages. "I don't want to share my husband with other women," said the runaway bride.

Cheng Peng, a young man in Nanjing, capital of East China's Jiangsu Province, was so perplexed when he found out his wife had another hubby online that he turned to the local women's protection group for counselling: "Is this an extra-marital affair or what? Is there a law that prohibits it?"

Most legal experts agree that online marriage does not constitute real marriage because the real McCoy requires formal registration or factual marriage, which means living together. Wanghun does not fit either of the descriptions yet violates the most sacred of age-old Chinese notions: "marriage is serious."

The whole idea of online marriage is based on the premise that marriage is a game. Just like you may kill hundreds of your enemies in one session in most video or computer games, or buy, sell and profit in Monopoly, you can try out the bliss and agony of married life, such as buying roses and changing diapers, strictly as a game. The only real cost is for phone charges, online access and fees for playing the game.

There is a catch, though. Your online spouse is not made up of bits and bytes. There is a real human being out there, even though the age, height, physical attributes, or even gender, may be faked. He or she has real emotions.

The young and single

Research shows that most players of the game are aged 13 to 30, with students as the majority -- young people in the "dating period," says Zhou Xiaozheng, professor at Renmin University of China.

It can be a learning experience, a few commentators say, for those who have not entered the fortress of matrimony. They can get a feeling of being a wife, husband or parent, and pave the way for the future when household chores can no longer be brushed aside with virtual payment.

"For a single person, online marriage has more benefits than harms," says He Cong, author of a digital book. "The perfect arrangement is to have as much experience as possible before the real marriage, and be loyal to your spouse afterwards. Online marriage provides a safe and ideal training for that."

Defenders like He Cong seem to be among the minority in China. Most experts, as quoted by the press, are strongly against it. It is psychologically detrimental to kids because it is a form of sexual stimulation, contends Wang Yuexi, a doctor at a Xi'an-based family planning centre. She is referring to explicit language often used among wanghun couples.

Doctor Wang advises parents to keep a close eye on their kids' online activities but that is proving difficult for many parents, whose computer skills lag far behind that of their children. They sometimes ask the local government for the shutdown of all Internet cafes or at least ban their children from visiting them.

Parents should not overreact, suggests a media commentator. This game is not much different from the traditional homemaker game, only more life-like. Parents should talk to their kids patiently and prevent them from overindulging in the game. Most important, they should keep their kids from harm's way like that posed by paedophiles or others with bad intentions.

The married and restless

Many people believe that it is okay for a single person to play the online marriage game, as long as it does not get out of control, but morally unacceptable for someone who is already married.

It may be a good business idea for a website, but one should not downplay the damage it may cause to the family and to society at large, comments Qin Jianfa, a lawyer at Jilin-based Zhengwen Law Firm. Online marriage has encroached on social ethics and even violates the law. Article four of the marriage law stipulates that a married couple should be loyal to each other and respect each other. If you talk about your private life with your online spouse and lead a "married" life, you have betrayed the spirit of the marriage law, Qin says.

"One who engages in extramarital sex is obviously at fault, and the one in online marriage is likewise to blame", says Li Yanqiu, a teacher at Jilin University's law department. "Even if the current law does not recognize online marriage as real marriage, its impact on life is very real."

Agreeing that there is a "blind spot" in the current legal system, scholars like Li are arguing for the toughening of the law. "Mental affair is cheating," underscores Luo Sirong, professor at Hangzhou Normal Institute's law school, who interprets online marriage as a culprit that disrupts legitimate relationships.

Judges in local courts in Changsha, capital of Central China's Hunan Province, have expressed that online marriage is a "cold-blooded killer" of marriage and family.

Statistics about online marriage-caused divorces are not available but a poll at Ninth City, a community website with online marriage service shows that 60 per cent of the game players are interested in removing the virtual veil of their online spouses and have a face-to-face meeting.

That is what some people call the danger zone. They believe that online marriage is innocuous as long as it is kept in cyberspace. But once you have the yen to bring it into the realm of reality, you will risk jeopardizing your above-board marriage. They cite a survey from Xinzhoukan, a lifestyle magazine, which suggest that one-third of one-night-stands are initiated online.

Others say this is no cause for alarm. The danger of making it real is quite small because people have such unrealistic expectations of their online dates or spouses that, if and when they come face to face, , they most probably get a death blow of disappointment. "Romantic scenarios like in Sleepless in Seattle are not likely to come true in real life," says Dapiqiu, a Quanzhou-based forum organizer, who uses a term from martial arts fiction, "jian guang si," which means "perish upon seeing light," to describe the fateful meeting.

Dapiqiu addes that 98 per cent of online relationships lead nowhere. "I've known fewer than 10 cases of virtual romance blossoming and bearing genuine fruit."

Fantasy world

Online marriage is platonic love with a tint of sexual fantasy; it is an adjustment to one's emotional life in reality, says Zhou Qingping, a teacher of network sociology at Huazhong Technology University. It can supplement your real life if it is used wisely.

There is nothing wrong with emotional articulation in cyberspace. Real-life spouses do not need to be over-sensitive, reasons Pang Shaotang, sociologist at Nanjing University. But children should take precaution lest they be harmed in the process.

Dating and marriage is a tiresome process in real life, but online it can be easy and pure. In a society where secret second wives, called "ernai" in Chinese, are not uncommon, online marriage can be a substitute and therefore healthy for a relationship, respond several amorous netizens.

They continue to explain that the whole thing is just fantasy. Nowadays, everyone is under enormous pressure in real life -- to find a job, to get a promotion, to refrain from upsetting your boss or your spouse. Only in the make-believe world can we pursue the kind of things unreachable or even unfathomable.

And that includes the harem fantasy. "I think the so-called mental cheating is no big deal. When I see a beautiful lady, I fancy her to be my wife. It's just castles in the sky. And men fantasize about having many beautiful women as their wives," rationalizes Liu Jun, an artist.

Judging from inquiry results, women also have the Madonna mentality of multiple male lovers serving her at the same time. Li Man, a graphic designer, has six online husbands. "I give one day to each of them and leave Sunday to myself," she clarifies. "They all have different occupations and different personalities, which complement one another. And for me, I tend to present a different facet of myself to each of them."

Liu Mingqiao, a 30-year-old civil service worker, is very blunt in deciphering the phenomenon: "Wang hun is actually yiyin, or psychosomatic lasciviousness. A man's desire is boundless. When you cannot fulfil your extra-marital whims, you can only keep on dreaming. With new technology, your private thoughts can now be writ large across the sky and the secrecy of timid drooling has given way to a pantheon of orgies."

People have many hidden desires and the Internet helps fulfil some of them, says Gu Xiaoming, a professor at Fudan University. Online marriage is an adult game, which reflects the same contradiction as in real life that one wants to monopolize the other party's affection and does not want to reciprocate by limiting his or her own choice.

A survey at 21CN, a portal site, reveals that, of 900 respondents, 93 per cent are keen on online romance, 61.2 per cent have had friends who claim to be of the opposite sex and 35 per cent have had online lovers.

Online marriage is a game, and that is why children love it. Since it has incorporated elements of play acting of an adult theme, grown-ups are also drawn to it. In the final analysis, it may be about communication. People who find it hard to express their feelings, especially amorous ones, can breathe the free air of cyberspace and receive the kind of attention they do not normally get in real life.

Xiao Sun, the 12-year-old Xi'an kid, has few words and fewer friends. "There is no way I can bring myself to talk to a girl in school," he says. But online his frustrations are safely given vent and his joy and sorrow are shared by people who seem to truly care about him. "I used to keep everything to myself, but now I have someone, presumably an elder-sister type, who listens to me and encourages me."

When asked why he does not take these problems to his parents, Xiao Sun answers: "They always talk down to me, but I want communication of equals. My folks always tell me I should do this and not that. If I tell them what's really on my mind, I'll get another lecturing."

Now, that would give his parents pause for thought.
Today's Top News
Top China News

Global protests rally against Iraq war, occupation




Taiwan "referendum" vetoed by the people




China to cultivate more excellent scientists




China puzzled over US tax complaint at WTO




Love among the suicide bombs: Iraq's opera




State banks head toward Sept IPO