U.S. launches WTO complaint against China
(Agencies)
Updated: 2004-03-19 08:51
The United States on Thursday brought a complaint against China in the World Trade Organization over tax policies that it said represent an "unfair barrier" to China's semiconductor imports.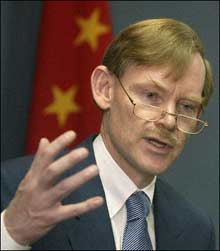 US Trade Representative Robert Zoellick said China must lives up to its obligations in the WTO. [Agencies/file]
"As a WTO member, China must live up to its WTO obligations. It cannot impose measures that discriminate against U.S. products," said U.S. Trade Representative Robert Zoellick. "U.S. manufacturers of semiconductors and other products have a right to compete on a level playing field with Chinese firms."
Sun Zhenyu, China's permanent representative to the WTO expressed regret over the US action and said the Chinese government will consider the issue carefully.
The related departments of the two countries have been negotiating over this issue and have achieved some progress, Sun said.
However, the US side filed the complaint while the two sides are still in talks. China feel regret over this and can't understand the US decision, he added.
The U.S. case was the first against China since it joined the WTO in December 2001. It followed criticism by Democratic presidential candidate John Kerry that President Bush's administration has not done enough to enforce the commitments China made when it was admitted to the trade body.
U. S. Senate Finance Committee Chairman Charles Grassley said the trade complaint signaled that Washington's two-year "honeymoon" with China since it joined the WTO was over.
"The message here is simple. China has to comply with its international trade obligations," the top Iowa Republican said. The House of Representative's Democratic watchdog on trade described the action as long overdue.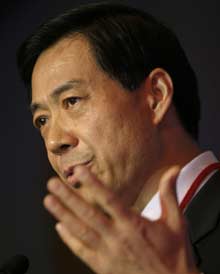 Newly-appointed Chinese Commerce Minister Bo Xilai. [newsphoto/file]

"One case brought as a political talking point does not make up for the administration's failure to develop a China trade policy over the past three years while ... the U.S. has lost almost 3 million manufacturing jobs," said Representative Sander Levin, a Michigan Democrat.

American semiconductor companies complain that China gives its domestic producers an unfair advantage in the $19 billion Chinese semiconductor market, by providing big rebates on a 17 percent value-added tax.

Last year, American companies exported $2.02 billion worth of semiconductors to China and paid about $344 million in value-added taxes. U.S claims that Chinese semiconductor companies receiving a tax rebate of about 80 percent, had an effective tax rate of as little as 3 percent, U.S. officials said.

Zoellick defended the U.S. administration's handling of trade with China, which ran a record of more than $120 billion surplus with the United States last year, as the United States alleges. The United States has made substantial progress on disputes with China in areas like agricultural biotechnology, express delivery, insurance and auto finance, without having to go to the WTO, Zoellick said.

"These discussions will continue because we prefer compliance rather than litigation. However, the bottom line is that China is discriminating against key U.S. technology products. It's wrong, and it's time to pursue a remedy through the WTO," Zoellick said.

Washington's action formally begins a 60-day period for the two countries to try to resolve the issue between themselves.
Today's Top News
Top China News

Pakistanis may be near bin Laden's aide al-Zawahri




U.S. launches WTO complaint against China




Report: China, Iran sign US$20b gas deal




Government relaxes control of airfares, finally




FM to pay official visit to DPRK




S. Korea won't send troops to Iraqi city