China Mobile profits rises 9%
By Xiao Chen (China Daily)
Updated: 2004-03-19 08:42
China Mobile Ltd, China Mobile Communications Corp's listing arm in Hong Kong, posted a net profit of 35.5 billion yuan (US$4.3 billion) on March 18 for its 2003 fiscal year, up 9 per cent from the previous year.
Turnovers rose to 158.6 billion yuan (US$19.1 billion) from 128.6 billion yuan (US$15.4 billion). The company declared a final dividend of 20 HK cents, giving a total of 36 HK cents for the year.
"The sustained growth reflected that China Mobile Ltd successfully withstood fierce domestic market competition," said Dai Chunrong, an analyst with China Securities.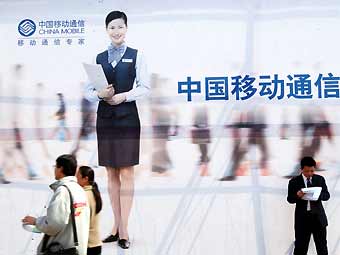 Passengers walk past a billboard of China Mobile in Zhengzhou, capital of Central China's Henan Province. [newsphoto]

Competition came mainly from its rival China Unicom, whose CDMA (code division multiple access) network began to gain strong momentum during the second half of last year, as well as the wireless phone service known as Xiaolingtong or personal access system (PAS) kicking off by the country's two largest fixed-line phone operators - China Telecom and China Netcom.

"To cultivate more new business will become more and more important for the company to maintain its profitability," Dai stressed.

According to China Mobile Ltd's statement, revenues from the new business reached 16.2 billion yuan (US$1.95 billion), up 85.5 per cent from the previous year.

Of those figures, its short messaging service (SMS) business surged by 134 per cent to reach 9.9 billion yuan.

"The trend for more value-added services is foreseeable, as the growth rate for traditional services has been declining year-on-year," Dai added.

For China Mobile, she believed that to maintain its dominant market share, having more of a focus on new business as well as working out services tailored to medium and low-end customers are the three effective ways to sustain its development this year.

Zhang Bing, an analyst with CITIC Securities, believed that the sustained growth could be partly attributed to the wide coverage of its networks nationwide providing services to subscribers.

He also pointed out that the fast development of Xiaolingtong wireless service has had an impact on the low-end market. China Telecom recorded 18.35 million subscribers for its Xiaolingtong services so far.

Both China Telecom and China Netcom both used Xiaolingtong wireless services as a competitive way to fight China Mobile and China Unicom.

"Nevertheless, as Xiaolingtong is only a supplement to fixed-line telephones, the impact won't be too big for mobile phone operators," Zhang said.

China Mobile Ltd Board Chairman Wang Xiaochu said the company will try to sustain its leading position by sticking to its core business, consolidating its market share and exploring more new business opportunities.