HK pop star Edison Chen punched by youngsters
(Agencies)
Updated: 2004-03-18 09:19
Hong Kong pop star Edison Chen was punched in the face by two boys in a Hong Kong downtown district Monday night, Hong Kong newspapers reported.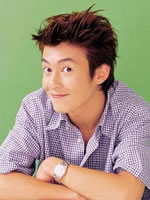 HK pop singer Edison Chen [file photo]

One of the boys taunted Chen with hip-hop dance moves and then both punched the 23-year-old star, knocking him to the ground in the Central financial district, the mass circulation Hong Kong newspaper Apple Daily reported.

Chen, one of Hong Kong's top new singers, chased and caught the boys as they tried to board a bus and turned them in to police, the report said.

The boys were later freed because Chen decided not to press charges, the Chinese-language Ming Pao Daily News reported.

Police confirmed that a man surnamed Chen had a shoving match with two boys, aged 16 and 17, which resulted in facial injuries to Chen.

Police spokesman Cheung Ka-po declined to provide further details, but said no one was arrested or charged in the incident.

A press conference was held by Chen on Tuesday to explain the details. The singer had difficulty walking. He said an ankle was sprained while chasing the two boys and his right cheekbone and ear were also injured.

However the young singer-actor showed maturity by taking the attack in stride.

¡°Their lives would be ruined if I pressed charges. Their mother asked me to forgive them. I went to the hospital and got checked out and since it¡¯s just bruises, I decided to let it go.¡±

But the singer admitted that if this happened a few years ago, he would never forgive them. ¡°But what am I supposed to do¹Ò They are just kids,¡± said Chen.

The singer said he would lay low for a while and just chill.


Today's Top News
Top Life News

China puzzled over US filing tax complaint at WTO




Chen, Annette Lu slightly wounded in shooting




Specific reform objectives set for banks




Bush urges allies to stick with united mission




Marriage bells toll in cyber churches




Chinese, French women hold dialogue