'Bush's Brain' looks at presidential adviser
(Agencies)
Updated: 2004-03-17 09:16
"Bush's Brain" has been cracked open and exposed for the world to see.
The documentary, based on the book of the same name about presidential adviser Karl Rove, had been kept tightly under wraps before making its world premiere to a packed theater at the South by Southwest film festival.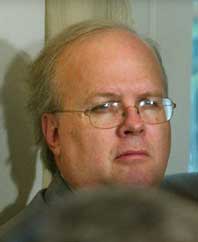 Karl Rove helped U.S. President Bush get elected as governor of Texas in 1994. [AP]

Both the book and the film depict Rove as the true brains behind the Bush administration, and practically a co-president.

The film, which screened Saturday night, begins with the image of Bush confidently descending the stairs of Air Force One with "Hail to the Chief" signaling his arrival.

Then comes the punch line. On a black screen with simple white lettering, the question is posed: How did this happen?

(Laughter and applause erupted at this point among the crowd of 1,200.)

The answer the movie supplies: Rove.

"Nobody knows who this guy is or how critical he was to the ascension of George Bush," said co-director Michael Paradies Shoob. "But they'll find out who he is and it will allow people to deconstruct the activities of this administration."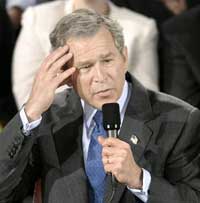 Rove declined several interview requests from the filmmakers; he also declined to return calls for comment on the film from The Associated Press.
But he did send a 14-page e-mail to The Dallas Morning News' Austin bureau chief Wayne Slater, co-author of "Bush's Brain," after reading an advance copy of the book that somehow got out before its 2003 release. (Hence the filmmakers' apprehension about letting anyone see the documentary too early.)
That e-mail, in which Rove rebuts several points in the book, becomes his voice in the film.

"We invited him to participate. We encouraged him to participate," said co-producer Elizabeth Reeder. "He had no interest in participation."
Nonetheless, Shoob and co-director Joseph Mealey, working from the text by Slater and co-author Jim Moore, detailed Rove's rise from Utah high school debate geek to Texas political juggernaut.
In interviews with Republicans and Democrats, we learn that Rove had his eye on the White House long before Bush ever did.
Rove helped Bush get elected as Texas governor in 1994 and again in 1998 before leading the charge toward the presidency in 2000. Even former Texas GOP Chairman Tom Pauken acknowledges that Bush wouldn't be president without Rove.
But Rove also helped Republicans get elected to key positions throughout the state -- and it's suggested that he doesn't simply want to beat the opposing candidates, he wants to destroy them.
"He seems to effectively rationalize and compartmentalize," said Moore, a former television correspondent who has covered Bush since his unsuccessful run for Congress in 1978. "I think he is able to say to himself, `Yeah, this is maybe outside the rules, this may be wrong, this may even be illegal, but I'm doing it for the greater good of the party."'
Shoob hopes that since it's an election year, his film will prompt voters to scrutinize Bush's presidency. There are no plans yet for "Bush's Brain" to appear in theaters or on television, though.
"When you make a film like this, you want to contribute to the national debate, to have people look at the administration and say, here's why things are happening, and are we happy with this? If we're at war, why are we at war? Was this a political decision or a policy decision?"
"It's really about winning and losing," he added.
Today's Top News
Top World News

China works to address U.S. concern on trade deficit




China, EU consolidate partnership




Two Chinese abducted by rebels in Sudan




Student killer an introvert who finally cracked




China, France hold joint naval drill




Flawed automobiles to be recalled