This big piggy went to the museum
(China Daily)
Updated: 2004-03-17 08:38
Seventy-two-year-old Xu Changjin cried for days when the pig he had looked after for five years died in his sleep in early February.
Xu's was no ordinary pig.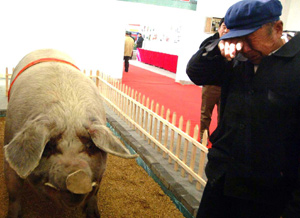 Xu Changjin, 72, weeps after the death of his beloved "Ton Pig" in early February in Zhuangkou Village in Dalian. [file photo]

Xu would have gladly named him SOME PIG if he'd read E. B. White's "Charlotte's Web."

After a trip to the taxidermist for preservation, the pig, who weighed 900 kilograms the day he died, was sent to the Liaoning Agriculture Museum in Shenyang, the capital of Northeast China's Liaoning Province, where he is now on display.

Xu's farmer neighbours in Zhuangkou Village of Wafangdian Town, in Dalian, christened him "Ton Pig."

He is the heaviest pig on record in China.

Xu lives alone in the village, and has no children.

His friendship with his pig started on April 25, 1999, when he bought a litter of six shoats.

Like Wilbur, the future "Ton Pig" was a runt, very small and weak. Xu didn't neglect him, however.

He kept him in his bedroom and gave him special care.

A year later, the five others had all grown big enough for sale, but the young "Ton Pig" was so thin that none of the buyers were interested.

So Xu gave up on selling the pig that year.

But "Ton Pig" suddenly started to grow after he celebrated his second birthday. He soon weighed more than 300 kilos, and was bigger than almost all of the other pigs in the area.

Then people started coming to Xu's door, offering good prices.

However, by this time, like Charlotte and Fern and all the others who loved and protected Wilbur, Xu refused to sell "Ton Pig," saying, "He is my companion. I will not sell him."

"Ton Pig" moved into the main room of the house when he grew bigger.

During Spring Festival in February 2003, Xu had a spring couplet written, to show his pride in his pig, whose weight already topped 700 kilos.

The phrase over the door read: Home of the Giant Pig.

By then, Xu had made a sandy bed for "Ton Pig" in his courtyard, because the pig was too big to stay in the house.

The news of Xu's "Ton Pig" spread far and wide, and many people came to see him.

However, Xu seldom opened his gate to show off his prize pig, because he was afraid that someone would steal him. He had a strong gate and sturdy wall built around his house.

"Ton Pig" consumed about 4 kilos of fodder a day. To feed him, Xu spent his savings from the 1,000 yuan (US$120) stipend he got from the village. He also went about picking up recyclable junk to sell to get more money to buy feed.

Xu's friendship with his pig was the talk of the village.

"It was amazing. The pig did the things Xu told him to," one villager said. "When he was still able to move around, he would waddle along with Xu when Xu took him for a walk."

The villager also added that the pig would always pee and empty his bowels in the courtyard when he lived in the house.

Xu gave "Ton Pig" a bath every day.

By late January this year, the pig weighed 900 kilos, which, according to Xu Changyuan, the village head, could have fetched 3,000 yuan (US$360) for Xu.

After Spring Festival, Xu found "Ton Pig" seldom got up to move, even a little bit.

On the night of February 4, "Ton Pig" fell asleep after his supper, Xu recalled.

Next morning, Xu discovered that his beloved "Ton Pig" had died during the night.

Xu wept. At noon, he hung a note on his gate: "No visitors. My Giant Pig is asleep and will never wake up."

Six days later, Xu went to the Liaoning Agricultural Museum.

He offered to donate "Ton Pig" to the museum.

Gong Kehai, the museum's curator, recalled that they were prepared to see a big pig, "but had no idea what a giant pig he was."

The 12 people who came from the museum couldn't move him.

The villagers couldn't understand why Xu didn't ask the museum for money. At first, they refused to help the museum people to move the pig.

"Xu never let his pig go hungry," Xu Changyuan said, "even though he himself has very little to spare."

But Xu, who spread his own quilts on the floor of the truck, finally talked Xu Changyuan and his neighbours into helping.

It took 16 people to load the pig onto the truck.

According to Liu Mingyu, a professor with the Life Sciences Department of Liaoning University, the 2.5-metre long and 1.1-metre tall pig was cross-bred, which helped account for his immense size.

But the main reason was Xu's careful and generous care.
Today's Top News
Top Life News

China puzzled over US filing tax complaint at WTO




Chen, Annette Lu slightly wounded in shooting




Specific reform objectives set for banks




Bush urges allies to stick with united mission




Marriage bells toll in cyber churches




Chinese, French women hold dialogue