Domestic game firms aim for dominance
By Liu Baijia (China Daily)
Updated: 2004-03-15 09:22
China's online games market will no longer be dominated by the industry's foreign "big boys," who have so far called the shots in the sector.
Industrial executives say that domestic firms will soon challenge the pre-eminent position of overseas companies, as they view to earn increased profits from their own games and operations.
"Foreign games may not continue to flood the online game market, as Chinese developers are catching up," said Jing Huang, managing director of Soft Bank Infrastructure Fund (China).
Last year, the bank invested US$40 million in Shanghai Shanda Networking Technology Co Ltd, the nation's biggest online game operator.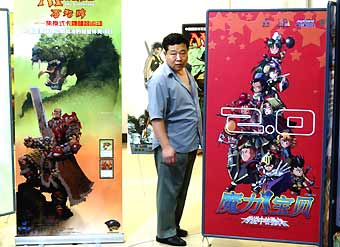 A man stands beside an online games advertisement at a recent online gaming expo. Industrial executives say that domestic firms will soon challenge the pre-eminent position of overseas companies, as they plan to earn increased profits from their own games and operations.[newsphoto]

He told a Venture Capital and Online Game seminar organized by the Chinese Venture Capital Associations in Beijing that the enthusiasm of domestic companies has been rising as a result of the increasing costs of importing a game from overseas markets like South Korea.

Game licensing costs were a mere US$300,000 two years ago, but have now rocketed to about US$1 million, not including sharing revenues from operations, according to industrial sources.

Sohu.com Inc, one of the top three Chinese Internet portals, alongside Netease.com Inc and Sina Corp, decided to launch a free trail of its first in-house game, Blade Online, which was created in co-operation with a domestic design company, in the second quarter of this year.

Sohu Chief Operating Officer Victor Koo said his company would launch the new game commercially in the second half of this year.

Sohu launched Knight Online, its first game imported from South Korea last February, but the game's business contributed virtually nil to the NASDAQ-listed company's total revenues, due to Sohu's lack of experience in operating online games and fierce market competition.

Self-developed games' higher profit margins are another attraction for domestic companies.

While the profit margin for Netease.com Inc, which earned 44 per cent of its revenues from online games, was 84 per cent in the fourth quarter of 2003, those of Sohu and Sina, which rely on wireless message services and online advertising, were 72 per cent.

Jing Huang also said that the online game market's huge potential will also attract more new players and self-developed games will be a welcome addition to the market.

The online game industry's actual sales grew by 45.8 per cent to 1.32 billion yuan (US$159 million) last year, according to the US-based research house International Data Corp (IDC).

Average annual market growth will be almost 50 per cent from 2002 to 2007, reaching 6.7 billion yuan (US$809 million) in 2007, the report predicts.

Wang Chen, editor of GamePro China magazine, believed that domestic firms have the added bonus of familiarity with Chinese culture and content as they battle to win customers.

In 2002, Netease.com Inc launched its first game Westward Journey, based on the classic Chinese novel "Pilgrimage to the West."

Although the game was considered as primitive by industry experts, its content helped it win support from young Chinese players.

The company also released its Fantasy Westward Journey in January, which is aimed at young women and children.

Meanwhile, Netease's stock prices on the NASDAQ also rose by more than 30 times in the past two years.

Followed by the example of Netease, many Chinese companies have announced ambitious plans for their online games.

Shanda said it would spend US$10 million this year to develop about six games.

Kingsoft, one of the biggest domestic software game firms, also decided to suspend all development projects on offline games, and will spend 50 million yuan (US$6 million) this year mainly on the development of online games.