China, France to hold joint naval exercises
(Xinhua)
Updated: 2004-03-13 14:25
A French naval fleet arrived in Qingdao, a port city in east China's Shandong province, Friday morning for joint naval exercises with the North China Sea Fleet of the People's Liberation Army Navy to be held on March 16.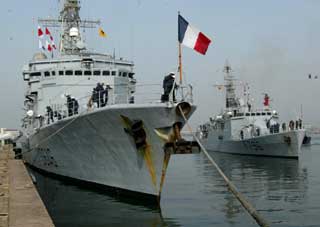 French navy warships arrive in Qingdao on Friday, the base of North China Sea Fleet, for a joint naval exercise on March 16. [newsphoto]

The two-warship fleet with 322 crew members aboard includes an anti-submarine-warfare destroyer Latouche-Treville and a light frigate Commandant Birot.

Chinese guided missile destroyer Harbin, replenishment ship Hongze Lake and shipboard helicopter Dolphin will work with the French warships for the first naval drills in the nontraditional security area between China and France.

The five-day tour is the 12th visit made by French warships to China and the fourth to Qingdao, the base of the North China Sea Fleet.

Louis De Contenson, navy commander of the French Pacific Military Region, will arrive in Qingdao for the exercises.

The one-day exercise includes ship and shipboard helicopter tactic maneuvers, replenishment exercises at sea and communication as well as search-and-rescue exercise.

An official with the Chinese Defense Ministry said the joint exercise is a sign of the good Sino-French relations. Chinese President Hu Jintao had just paid a successful state visit to France and the two countries celebrated the 40th anniversary of the establishment of diplomatic relations, he said, adding that the joint drill will further the state-to-state and military-to-military relations between the two countries.
Today's Top News
Top China News

Pakistanis may be near bin Laden's aide al-Zawahri




Government relaxes control of airfares, finally




U.S. launches WTO complaint against China




Report: China, Iran sign US$20b gas deal




FM to pay official visit to DPRK




women bosses urged to date and marry