Wet Market Renovation
(that's Guangzhou)
Updated: 2004-03-11 15:36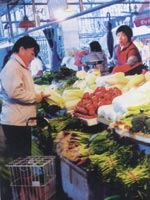 Guangzhou's markets are getting a fresh new look under plans to improve hygiene and food standards. Zhuguang food market (near Beijing Lu), the city's largest, has undergone recent transformation into a sparkling clean market that is sure to be the envy of vegetable hawkers and eel sellers around the country. It is open after closing for extensive renovations in early December.
Customers used to complain that the indoor market lacked proper hygiene. "It is filthy, it smelt and it was too dar," said straight talking Jacinta Li, a frequent visitor to the market. Mr Chen, the market's General Manager, added that waste food often made the floor slippery.
There is now a fresh and bright environment throughout the market. The new non-slip floor protects customers from accidents and fluoresent lights now give the market a cheerful feel. A ventilation system pumps out the foul air, and new emergency lighting and clearer signage make the market more modern and customer friendly.
Each stall owner contributed several thousand RMB to the renovation and all appeared pleased with the results. "It really is much cleaner than before, and the prices are still the same," boasted Ji Qun, who operates a free-range chicken stall. Qun, who contributed RMB 70,000 to the renovations, described in proud detail the changes to her stall, "The work surfaces have been replaced with wipe-clean tiles to prevent build up of bacteria. Now we also have separate areas for the live chickens and the meat."
With everybody on the alert for signs of avian flu and SARS, the Zhuguang market has raised the bar for market cleanliness. Other renovations are planned across Guangzhou.