Iraqi: Saddam 3 years from nukes in '91
(Agencies)
Updated: 2004-03-10 09:27
Iraq was three years away from becoming a nuclear power before the 1991 Gulf War, the No. 2 Iraqi scientist on the program said Tuesday.
Noman Saad Eddin al-Noaimi, a former director-general of Iraq's nuclear program, told The Associated Press that Iraq produced less than a kilogram ¡ª 2.2 pounds ¡ª of highly enriched uranium before the war and U.N. inspections halted the program.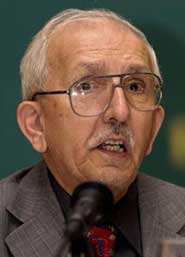 Iraqi scientist Dr. Noman Saad Eddin al-Noaimi, a former director-general of Iraq's nuclear program, speaks during a three-day conference in Beirut, Lebanon, covering the repercussions of Iraq's occupation, Monday March 8, 2004. [AP]

The International Atomic Energy Agency, the U.N. nuclear watchdog, considers 55 pounds the standard minimum for a rudimentary bomb.

"Producing the appropriate amount would have required at least two more years, under normal circumstances," al-Noaimi said on the sidelines of a meeting in Beirut about the repercussions of the Iraq invasion. "Putting that substance into a weapon could have taken an additional year."

Al-Noaimi was believed to be the first senior Iraqi involved in the clandestine program to disclose a specific timeframe for Iraq to acquire a nuclear bomb.

A British intelligence dossier made public in September 2002 as U.S. and British leaders were building their cases for war maintained that if U.N. sanctions against Iraq were lifted, Saddam Hussein could develop a nuclear weapon in one to two years. However, the IAEA said there was no evidence of any nuclear weapons programs.

Al-Noaimi, who retired in the late 1990s, said Saddam ordered his scientists to develop atomic weapons as early as 1987. He said other scientists may have different estimates on how close Iraq was to making the weapon.

"Others could be more optimistic or more pessimistic, but my personal assessment is that we were two to three years away from that, if everything went according to the required level and speed," he said.

Jafar Dhia Jafar, the father of Iraq's nuclear bomb program, was also at the Beirut meeting. He refused to give a timeframe on Iraq's attempts.

"I cannot estimate that because we didn't reach this point," Jafar told AP. "We had attempts in designs and attempts in manufacturing but we did not reach" the bomb.

David Albright, an American nuclear expert and former U.N. inspector during the 1990s, said the three-year timeframe was "plausible" for part of the nuclear program.

Before the Gulf War, Iraq's nuclear program was divided into a crash program to build a bomb and an indigenous effort to enrich uranium for use in atomic weapons.

The IAEA said in 1997 that Iraq's "crash program" had set a target to build a bomb in 1991.

But the agency said there was no evidence the Iraqis, by the time of their Gulf War defeat in February 1991, had produced more than a "few grams" of highly enriched uranium.

Al-Noaimi co-authored a paper with Jafar saying that most Iraqi nuclear facilities were damaged or destroyed in the 1991 war. They said scientists, engineers and technicians involved in the program dispersed after the war and the program was dismantled on Saddam's orders.

On Monday, Jafar denied that Saddam tried to restart his atomic activities, but acknowledged Iraq tried to conceal its banned weapons operations before destroying them 13 years ago. Jafar also claimed that U.N. inspectors had "reached total conviction" that Iraq was free of nuclear weapons yet failed to convey that to the Security Council because of U.S. pressure.

Al-Noaimi said that at the beginning of the nuclear program, Iraq did not have any intentions to enrich uranium for military purposes, and only planned to use the technology in producing electricity.

"In 1987 when we reached an advanced scientific, technological and production stage of enriching uranium, the orders came: 'Now think about studying and designing nuclear weapons,'" he said.

Iraqi physicist Imad Khadduri, who worked for years for Iraq's nuclear program, told AP his country was years away from the bomb. "I would say that we finished between 10 to 15 percent of it, which means we still needed about 90 percent of work," said Khadduri.

He said Iraq had produced no more than a fifth of an ounce of enriched uranium by 1991.

After the 1991 Gulf War, Iraq was forced to throw open its doors to U.N. inspectors who were given the mission of destroying Baghdad's chemical, biological and nuclear weapons and the programs to develop them.
Today's Top News
Top World News

Social security fund secured off capital market




US criticism on human rights unreasonable




China to scrap oldest tax on farmers' crops




Officials to be rated on pollution control




Sand storm turns the sky yellow




Putin names new Russian FM