Bin Laden may be eyeing move
(Agencies)
Updated: 2004-03-10 09:16
Al Qaeda leader Osama bin Laden might be preparing to move from Pakistan to Afghanistan, according to sources with access to the latest U.S. intelligence.
U.S. intelligence found signs of a network of al Qaeda couriers and safe houses on the Afghan side of the border, sources said. Such a network could be a sign bin Laden might be planning to flee Pakistan, CNN reported.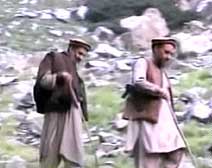 Al-Jazeera aired a video in September 2003 that appeared to show bin Laden with his top deputy, Ayman al-Zawahiri. [AP/Al Jazeera]

Pentagon officials said they think bin Laden is hiding along the mountainous Pakistan-Afghan border, but they said they do not know bin Laden's exact location.

The officials said they think the fugitive terrorist leader is increasingly facing pressure from Pakistan's close efforts with the United States as well as the cooperation of some tribes that rule the largely ungoverned region along the border.

The Arab television network Al-Jazeera aired video Monday showing some 2,000 men from a tribe in the Wana border region of Pakistan who, under pressure from the Pakistan government, have joined the hunt for al Qaeda members.

"The Wana region is like a ship, and we're all on board," said Noor Mohammed, whom Al-Jazeera identified as a tribal leader.

Efforts to catch bin Laden increased

The U.S. military recently said it was increasing efforts to find bin Laden, who has eluded the United States for years.

Pakistani troops arrested 25 people during a raid on the Pakistan side of border last month. It was not clear if any of the people detained were al Qaeda, but the Pakistani troops found passports, weapons and documents, Pakistani military officials said.

The U.S. commander in Afghanistan, Lt. Gen. David Barno, said last month U.S. and Pakistani forces are operating on each side of the border in hopes of driving al Qaeda fighters toward the 11,000 U.S. and Afghan troops across the frontier.

Pentagon officials insist that it's only a matter of time before bin Laden is found.

The Taliban ruled much of Afghanistan from the mid-1990s until a coalition of U.S. and allied forces drove the fundamentalist Muslim regime from power in November 2001. The Taliban provided haven to al Qaeda before the September 11, 2001, attacks.
Today's Top News
Top World News

Social security fund secured off capital market




US criticism on human rights unreasonable




China to scrap oldest tax on farmers' crops




Officials to be rated on pollution control




Sand storm turns the sky yellow




Putin names new Russian FM