Hijacking mastermind Abu Abbas dead in US custody
(Agencies)
Updated: 2004-03-10 09:11
Abu Abbas, the Palestinian who led the 1985 hijacking of the Achille Lauro cruise ship in which a wheelchair-bound American hostage was killed, has died in US custody, apparently of natural causes, a Pentagon spokesman said.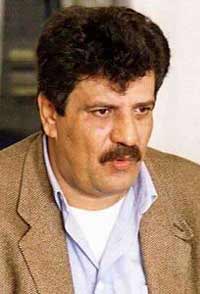 Abu Abbas, the Palestinian mastermind of the Achille Lauro cruise ship hijacking in 1985, has died of natural causes in U.S. custody in Iraq, a top Palestinian official said March 9, 2004. [Reuters]

"Initial reports indicate he died of natural causes," said Bryan Whitman, the Pentagon spokesman. "Medical efforts to revive him were unsuccessful and autopsy will be performed."

Abu Abbas, whose real name was Mohammed Abbas, died Monday, the spokesman said. Abbas was taken into custody by US forces in Iraq on April 14 following the fall of Iraqi President Saddam Hussein.

Whitman would not comment on where he was being held at the time of his death, but officials indicated he was in US custody in Iraq.

"Most people suspect it was a heart attack," a defense official said, speaking on condition of anonymity. "It's likely the cause of death would have been cardiac failure given his medical history."

It was not immediately known what would happen to his remains or whether his next of kin have been notified.

He was born in Syria in 1948 to a Palestinian family from the Haifa area of what is now Israel.

He headed the Palestinian Liberation Front, which assaulted the Italian cruise ship Achille Lauro in 1985 and killed a wheelchair-bound American hostage, 69-year-old Leon Klinghoffer, who was thrown into the Mediterranean.

Abbas was sentenced in absentia in Italy to five life terms for his role in the hijacking.

The Palestinian leadership argued Abbas should have been released under a 1995 immunity accord made between the Palestinians and the Israeli government. But US officials said Abbas was not covered by the accord.

Klinghoffer's family said in a statement in New York that they had been denied justice by Abbas's death.

"With his death, justice will be denied," Klinghoffers' daughters Ilsa and Lisa said in a statement. "The one consolation for us is that Abu Abbas died in captivity, not as a free man."

Klinghoffers' family had spent 18 years seeking his capture and eventual extradition to the United States to stand trial.

"Abu Abbas was a vicious terrorist who was responsible for countless deaths of innocent people -- men, women and children -- throughout the Middle East," the family statement said.

"His trial and conviction also would have sent a clear message to terrorists everywhere that, if they kill an American citizen, they can run but they can't hide," it added.
Today's Top News
Top World News

China to scrap oldest tax on farmers' crops




Social security fund to be kept safe




US criticism on human rights unreasonable




Officials to be rated on pollution control




Soccer player wins 2.63m yuan compensation




Putin names new Russian FM