Hijacker of Achille Lauro dead in US custody
(Agencies)
Updated: 2004-03-10 09:04
Mohammed Abbas, the Palestinian mastermind of the Achille Lauro cruise ship hijacking in 1985, has died of natural causes in U.S. custody in Iraq, U.S. and Palestinian officials said on Tuesday.
One U.S. official said he had a heart attack.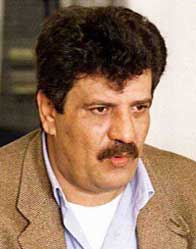 Abu Abbas, the Palestinian mastermind of the Achille Lauro cruise ship hijacking in 1985, has died of natural causes in U.S. custody in Iraq, a top Palestinian official said March 9, 2004. Abbas had been held under U.S. custody since April when U.S. special forces invading Iraq arrested him as he tried to flee to Syria. Abbas is shown in this April 22, 1996 file photo. [Reuters]

"Mohammed Abbas or Abu Abbas, head of the Palestine Liberation Front (PLF), who has been held in American custody, has died in Iraq," an official close to President Yasser Arafat told Reuters.

He said the death of Abbas, caught by U.S. forces in April, was "related to his deteriorating health situation."

"He apparently died of natural causes. Medical efforts to revive him were unsuccessful. An autopsy will be performed," a Defense Department spokesman said.

He refused to say where Abbas died. Another defense official, who asked not to be identified, said he was being held in Iraq at the time of his death.

"Apparently he died in U.S. custody in Iraq of natural causes, a heart attack," another senior official said.

Abbas planned the hijacking of the Italian cruise liner Achille Lauro in October 1985 during which a wheel-chair bound American Jew, 69-year-old Leon Klinghoffer, was killed and thrown into the sea.

Abbas, who was not on board the ship during the attack spent most of the past 17 years in Iraq, eluding U.S. and Italian officials. He was believed to be in his late 50s or early 60s.

The Iraqi-based PLF embarrassed the Palestine Liberation Organization leadership with the Achille Lauro hijacking and a failed seaborne attack on Israel in 1990.

Abbas later renounced violence when his pro-Arafat faction backed the PLO's decision to halt attacks against Israel after the 1993 Oslo peace accords were signed.

Italy released Abbas after U.S. warplanes intercepted his jet and forced it to land in Italy shortly after the Achille Lauro hijacking. But it tried Abbas and sentenced him to five life terms in prison after he had already left the country.

Washington dropped a warrant for Abbas's arrest several years ago and Israel declared him immune from prosecution over the hijacking in 1999 after he was allowed to return to Gaza by officials who concluded he was no longer involved in militancy.

After his capture, Washington said it wanted to bring Abbas to justice, but the issue became entangled in legal and diplomatic problems such as the possibility the U.S. statute of limitations had expired and extradition difficulties with Italy.
Today's Top News
Top World News

Social security fund secured off capital market




US criticism on human rights unreasonable




China to scrap oldest tax on farmers' crops




Officials to be rated on pollution control




Sand storm turns the sky yellow




Putin names new Russian FM