Pakistan test-fires nuclear-capable missile
(Reuters)
Updated: 2004-03-09 15:08
Pakistan test-fired on Tuesday an intermediate-range nuclear-capable ballistic missile, which could reach all the cities in neighboring India.
State-owned Pakistan Television announced that the missile could travel 1,250 miles and carry all kinds of warheads.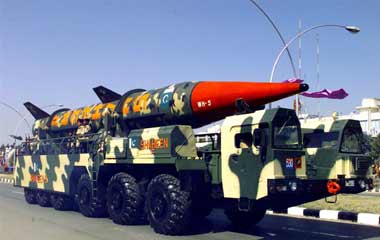 A military transporter displays a Shaheen-II ballistic missile during the Pakistan Day parade in the capital Islamabad in this March 23, 2000 file photo. [Reuters]
Pakistan says its weapons program is a response to that of nuclear-armed rival India, with which it has fought three wars since independence in 1947. The test came after Israel last week concluded a deal to sell India a strategic airborne radar system despite warming ties between Islamabad and New Delhi.
Today's Top News
Top World News

Social security fund secured off capital market




US criticism on human rights unreasonable




China to scrap oldest tax on farmers' crops




Officials to be rated on pollution control




Sand storm turns the sky yellow




Putin names new Russian FM